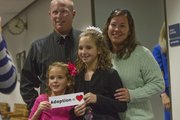 Ask Shannon and Tonya Clark how they came to have 11 children, and their short answer is: "Because every kid deserves a home."
The latest installment in their longer story happened Friday, when two little girls the Lawrence couple had been fostering more than a year formally became their daughters.
In Douglas County District Court on the eve of National Adoption Day, 11-year-old Alexis Clark stated her new name for the judge and then her little sister's, because 8-year-old Mikalah Clark was too shy to do it herself.
After all, there were a lot of people watching.
Timothy, Justin, Courtney, Alex, Alexzandria, Joseph and Shelby — seven of the girls' nine siblings, who range in age from 8 to 25 — were all there. There were grandparents, case workers and other loved ones, too, bringing the audience to almost 20.
Before Friday's adoption finalization hearing, Tonya said she and Shannon talked to Alexis and Mikalah about what the milestone meant.
"We're not just doing it until they turn 18 — there's a door, get out," Tonya said. "We want to be their forever family."
Shannon and Tonya married four years ago. He has three biological children from a previous relationship and she has six — three biological and three adopted.
Tonya once thought her first three children would be her last, but that wasn't the case.
"I kept saying yes," she said.
The first two of her adopted children, from a family she knew, showed up on her doorstep, she said. She took in their sister as an infant right out of the hospital and formally adopted the three siblings in 2006.
She and Shannon also knew Alexis and Mikalah. The girls, friends of the Clarks' other children, came over often. They were living with a grandparent before moving into the Clarks' home as foster children.
"They've always been part of our family," Tonya said. "It was always sort of a packaged deal — when one would come, both would come."
"They just sort of fit right in."
National Adoption Day caps National Adoption Week, aimed at raising awareness of children in foster care waiting to find permanent families.
In Kansas, more than 5,800 children are currently in foster care and more than 950 are available for adoption, according to KVC Kansas. The organization is a subsidiary of KVC Health Systems Inc., a nonprofit group devoted to healthcare, social services and education for children and families.
KVC Kansas says the greatest adoption needs are for children older than 9, members of a sibling group of three or more and children of any age with physical, medical or emotional special needs.
Many families temporarily foster numerous children over the years. The Clarks' case — in which they knew all the children they fostered and eventually adopted them — is a little different.
"It would be very hard for me to foster a child and not fall in love with them and want them to stay," Tonya Clark said.
Including Alexis and Mikalah, eight of the Clarks' children live with them in their seven-bedroom home — along with two dogs, two cats, four lovebirds and a tank of fish.
On Friday, Alexis said she was excited to get a "forever family." Mikalah said she was looking forward to always having "lots of people to play with."
It's not often Judge Peggy Kittel walks into her courtroom with an ear-to-ear smile and ends a hearing with congratulations.
"This is one of the few happy occasions we have down here," Kittel said. "And it's the best."
Copyright 2018 The Lawrence Journal-World. All rights reserved. This material may not be published, broadcast, rewritten or redistributed. We strive to uphold our values for every story published.