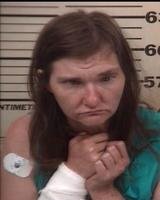 A Jefferson County woman who pleaded guilty earlier this year to conspiracy to commit aggravated battery and great bodily harm was sentenced to two years probation in Jefferson County District Court.
As a condition of probation, Rebecca Burch, of Lakeside Village, must comply with recommendations of her mental health care providers.
In June, Burch was charged in an alleged murder-for-hire scheme, accused of trying to trade a government assistance check for the killing of an ex-boyfriend. She was arrested after an undercover officer posing as a prospective contract killer contacted her about the scheme.
Copyright 2018 The Lawrence Journal-World. All rights reserved. This material may not be published, broadcast, rewritten or redistributed. We strive to uphold our values for every story published.