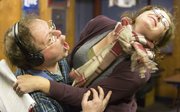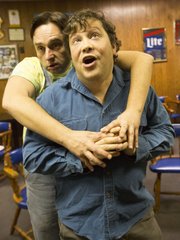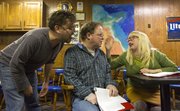 Get ready, hardcore sketch comedy fans. The small troupe born out of the "Victor Continental Show" has 20 live sketches and 10 short films prepared for this year's Loaded for Bear 4: Ad Astra Per Ursa (very poorly translated, to the stars through bears).
Without actually giving away any concrete details or storylines — the element of surprise is key to sketch comedy — co-producer Matt Gaus says this particular show caters to true comedy geeks, weaving intellect, wordplay and polished writing into all things weird.
"It's the people who would buy an entire series of sketch shows and watch them entirely," Gaus says. "It's for some person who might obsessively watch a comedy and rewind it to see what they missed. It's multilayered, there is a little bit of intellect. We can have jokes about romantic encounters and sea creatures and James Joyce in the same sketch."
Gaus would really like to make it clear that it's not by any means for a sophisticated crowd, suddenly concerned that he was making the show sound intelligent. Really, he says, it's not at all.
"It's kind of lame to say it's a comedy show for comedy fans, but it's definitely not run of the mill," he says. "It's definitely not, 'hey what's with airline food?' but at the same time it's not dirty, canty sex review kind of thing. It's weird. There's a lot of weird in it."
Loaded for Bear doesn't necessarily write area-specific references in their variety shows even though it is a local crew composed of longtime high school friends, siblings and couples.
"That's what you get when you live in Lawrence," Gaus says.
Not to give too much away, but there is a dance number this year involving some Kansas political figures.
And one last teaser: the second act will have a special appearance from a 6News celebrity (not co-producer Andy Morton, Gaus says, he does TV trivia, that doesn't count).
"You have to stay that long if you want to see who it is," Gaus says.
If Gaus had to nail down one overarching theme this year, it would be a tribute to great film stars passed, in particular, Patrick Swayze.
This Card Table Production crew formed to accommodate for clever sketches that didn't fit the context of the "Victor Continental Show," a raunchy, annual theatrical sketch comedy performance that ended in July that catered to rowdy, responsive crowds of 600 people. Loaded for Bear is the only local sketch comedy group in practice, at this point.
"We'd write a sketch that was wordy or you had to sit there and follow, and people would laugh over it or talk over it or they just couldn't hear because the space was so big that they lost the thread, and you'd get to the end and you don't get the response," Gaus says.
With a smaller space, and more intimate setting, Loaded for Bear can give full attention to sketches, and experiment with audio and video elements, providing quick and smooth transitions between each piece of the show.
"Basically it's a way to keep the show going and going and going without having to stop to play a funny song or blackout or something like that," Gaus says.
It's been a two-month process to write, edit and rehearse this year's show, not because they couldn't use the extra time, but because comedy would (happily) consume their lives otherwise. A swift two weeks of rehearsal is all they require, which has nothing to do with improv elements.
"Most of us just really aren't good at improv," Gaus says. "One of our sketches last year was about how we don't do improv. It was a bunch of outtakes that was weird but just not funny. Like a newspaper on top of an air conditioning unit, so someone would talk to the newspaper? Stuff that just doesn't make sense and it's not that good."
"Loaded for Bear 4: Ad Astra Per Ursa" will be performed at 8:30 p.m. Friday and Saturday at the Lawrence Arts Center Black Box Theater. Tickets are $9. Like any sketch good comedy show, booze will be available for those old enough to partake.
Copyright 2018 The Lawrence Journal-World. All rights reserved. This material may not be published, broadcast, rewritten or redistributed. We strive to uphold our values for every story published.