Photo Gallery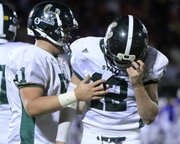 Free State football at Olathe North (playoffs)
Olathe — Unlikely as it seemed when the drive began, Free State High's football team had a shot to get out of Olathe District Activity Center Friday night with a second-round playoff victory.
That isn't supposed to happen when a team trailing by four has already turned the ball over five times, like the Firebirds had. But sure enough, they picked up chunks of yards and six first downs in the final three minutes against Olathe North. The drive began on Free State's own five-yard line and, before long, FSHS was in the red zone.
Senior quarterback Joe Dineen had just run 17 yards to get his team on O-North's 12, and on the following snap he dropped back to pass for the 45th time. Dineen saw junior receiver Joel Spain breaking toward the back-left corner of the end zone and lofted up a pass, but junior Eagles defensive back Chaz Burgess snatched it out of the air for his second interception, and Free State's season ended with a 22-18 loss.
The heroic effort from Burgess made it six takeaways for O-North (8-3), which moved on to the Class 6A state semifinals, and the fourth time an Eagle picked off Dineen — Vinnie Shabazz did so early in the fourth quarter, Isaiah Simmons came up with another in the second quarter and Burgess intercepted the final play of the first half.
But O-North, which only produced 224 yards on offense, also benefited from two lost fumbles for FSHS (9-2), one when Dineen was rushing and another on a bad snap. Eagles Marcel Williams and Jamil Brown recovered them.
"That loss is on me," Dineen said. "I had six turnovers, and that's unacceptable. I can't do that, especially in a game like this. The line did great, skill positions did great, and I didn't deliver them the ball. That's on me."
The quarterback's coach, Bob Lisher, didn't see it exactly that way, considering Dineen rushed for 72 yards and a touchdown and threw for 292 more, hitting senior receiver Keith Loneker for a pair of scores, as well.
"Joe's made a lot of things happen for us this year and made some things happen for us tonight," Lisher said. "Olathe North just took it away from us a few times to win the football game. Congratulations to them, and our guys gave it a good shot."
Indeed, despite all the Firebirds' troubles, it seemed in the final minutes that they might advance to the semifinals for the second year in a row. O-North gifted them a pass interference and first down to get the drive started. Later, Dineen connected with Loneker (eight catches, 144 yards) for a first down. Then senior receiver Khadre Lane hauled in two more first-down catches, the second one on fourth-and-eight. Free State even converted a second fourth down on the drive, when Dineen escaped pressure and found running back Stan Skwarlo open for another first down.
At that juncture, Loneker said Free State's seniors felt certain they would somehow win.
"That's what we do. That's what we've always done since we were little kids," Loneker said, tears streaming down his face. "We've always fought. I thought we were gonna get that one. But life doesn't always turn out the way you think it's gonna turn out."
Dineen took the loss just as hard.
"I've been playing with these guys since second grade. I can't believe it's over," the quarterback said, unable to hold back tears. "Man, I love these guys. It's done. For it to end like that, it's not right."
Loneker said no one on the team blamed Dineen for the loss.
"Joe's one of the best players I've ever played with in my whole life," he said.
Other than the giveaways, the Firebirds did much of what they planned to against O-North, the only team to beat them this season. The FSHS defense held the Eagles to just five first downs and 224 yards of offense. Senior running back Venus Triplett's longest run went for 10 yards, and he only totaled 35 on 19 carries.
Lisher didn't think O-North did anything special or different that led to Free State's turnover issues. The coach said his players just pressed a little bit.
"There were a couple of things we didn't execute," he said. "We were driving and had an opportunity to go ahead with no time left, and their guy made a play."
---
Olathe North 22, Free State 18
FSHS | O-North
First downs 23 | 5
Rushes-yards 28-101 | 32-122
Passing yards 292 | 102
Total offense 393 | 224
Return yards 41 | 124
Fumbles-lost 2-2 | 0-0
Penalties-yards 6-50 | 8-75
Score by quarters
FSHS 6 12 0 0 — 18
O-North 0 7 8 7 — 22
Individual statistics
Rushing
FSHS: Joe Dineen 17-72 TD, Stan Skwarlo 8-23, Joe Lane 2-6, Blake Winslow 1-0.
O-North: Jimmie Swain 1-41, Venus Triplett 19-35 TD, Cole Murphy 10-27, Marcus Spears 2-19 TD.
Passing
FSHS: Dineen 22-45-292, 2 TDs, 4 interceptions.
O-North: Murphy 4-13-102 TD, interception.
Receiving
FSHS: Keith Loneker 8-144 2 TDs, Winslow 4-75, Khadre Lane 5-32, Joel Spain 1-16, Zach Bickling 2-15, Skwarlo 1-6, Lucas Werner 1-4.
O-North: Mauricio Chio 2-74, Chaz Burgess 1-23 TD, Triplett 1-5.
HOW THEY SCORED
First quarter
8:42 — Joe Dineen 8 run. Alex Trent kick failed. (FSHS 6, O-North 0.)
Second quarter
7:27 — Venus Triplett 10 run. Ivan Aguero kick. (O-North 7, FSHS 6.)
6:45 — Keith Loneker 56 pass from Dineen. Trent kick blocked. (FSHS 12, O-North 7.)
2:43 — Loneker 9 pass from Dineen. Loneker pass from Dineen failed. (FSHS 18, O-North 7.)
Third quarter
6:02 — Chaz Burgess 23 pass from Cole Murphy. Mauricio Chio pass from Murphy. (FSHS 18, O-North 15.)
Fourth quarter
4:50 — Marcel Spears 16 run. Aguero kick. (O-North 22, FSHS 15.)
Copyright 2018 The Lawrence Journal-World. All rights reserved. This material may not be published, broadcast, rewritten or redistributed. We strive to uphold our values for every story published.