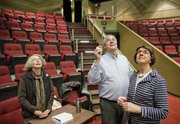 Vicki Douglas used to read the scripts ahead of time before attending plays. It wasn't because the Lawrence woman couldn't wait to find out the plot twists, but because she knew she wouldn't be able to hear the performance. But now, when she goes to Theatre Lawrence, at least, she doesn't have to worry about any of that.
During the recent construction of its new building, the theatre installed a "loop" system that allows people with hearing loss to listen to the performance through their hearing aids. The state-of-the-art system is only available in three locations in Kansas, all in Lawrence, according to Loop America. The under-construction Lawrence Public Library auditorium and Marston Hearing Center are the other two.
"It's all part of making theatergoing as accessible for as many people as we can," said Mary Doveton, executive director of Theatre Lawrence, noting that the new location also has accessible bathrooms, no steps outside and an elevator.
Where previous hearing-assist systems used either infrared or radio transmitters, looping is wireless and taps into the telecoil receiver in many hearing aids.
Douglas couldn't be more pleased. She has struggled with hearing since middle age due to a hereditary condition. She has since become an advocate for installing loop systems in public places.
"You can sit anywhere and it eliminates any ambient noise that's around you," she said, as theater board member Bob Newton demonstrated the system on a recent day. "You really get this clear sound from the mic … clearer than the FM or infrared systems."
She noted that the hearing impaired miss as much as half the dialogue at plays. Fifty-five million Americans have hearing loss in one or both ears, a number that is expected to double over the next two decades, according to Johns Hopkins University.
Kansas lags behind many other states in implementing loop systems. Elsewhere, churches are a popular place for them. The House and Senate chambers in Washington and taxi cabs and the subway in New York City have all been looped. Some people even have the systems in their homes.
So when Douglas heard the Lawrence theater was rebuilding — looping systems are generally cheaper to install in new construction than to retrofit — she thought it would be a good opportunity to persuade its board to install one. Ear, nose and throat practice Lawrence Otolaryngology Associates and the Lawrence Sertoma Club, a service organization focused on hearing-related causes, helped fund the purchase and installation of the system, which cost between $15,000 and $20,000.
"It's not cheap, and I think that's the deterrent for a lot of places," said Douglas.
Copper wires were installed under the concrete floor of every other row of the theater, as well as around the stage, giving people in any seat the opportunity to link into the system. Pencil-thin microphones hanging in front of the stage pick up the sound. The theater also has receivers and headphones available for hearing-impaired audience members without a telecoil-enabled hearing aid.
At the theater's former location near downtown Lawrence, audience members with hearing loss would either request the scripts in advance or ask to sit in the front row. The theater even tried using sign language at one point but the space was too small.
"As our society ages and we become more aware of each other's needs, it's important to accommodate them," added Doveton.
Copyright 2018 The Lawrence Journal-World. All rights reserved. This material may not be published, broadcast, rewritten or redistributed. We strive to uphold our values for every story published.