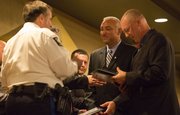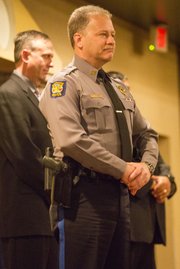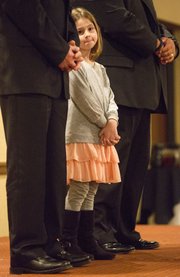 Courage and split-second, decisive actions were distinguished by the Lawrence Police Department Thursday night for the exemplary public service of both law enforcement officials and the bystanding citizens who lent a hand.
The LPD decorated 25 law enforcement officials and nine citizens with awards for their heroic acts and service over the last 12-plus months in a banquet hall at the Holiday Inn. Twelve recruits of the LPD's 34th police academy class were also recognized in a graduation ceremony following the awards show.
"As we recognize our citizens and law enforcement officers, it will become apparent the level of commitment these individuals have for their community," LPD Chief Tarik Khatib said.
The nine citizens up for commendation did anything from thwarting thefts and scams to aiding in the apprehension of suspects.
Nicholas Ayre, who was unable to attend the presentation, received the Citizen Distinguished Service Award for coming to the defense of LPD Sgt. Craig Shanks, who was attacked by a man that had been running in the street on West Campus Road in January. Ayre provided arrest assistance, according to police. Shanks also received a Letter of Commendation for his actions.
Nicole Calloway and Samantha Robbins, employees of Presto Convenience Store on Iowa Street, received the Citizen Meritorious Service Award for matching a suspect description from a nearby armed robbery to one of their patrons. They stalled the man while notifying police, leading to an arrest, according to the LPD.
Valerie Blanton and Lydia Sierra, two employees of the Dillons grocery store on Massachusetts Street were recognized for preventing an elderly man from being scammed out of $1,500. According to police, the man had been contacted by an impostor claiming to be his grandson, who was in trouble in Mexico and needed money "wired to him." The man visited the store to complete the transaction but the two employees persuaded him otherwise.
The Dudinyak family -- parents Michael and Dina and their children, Logan and Lincoln -- also received the Citizen Community Service Award for the way they happened upon three stolen televisions stashed outdoors and called police in November 2012.
Sgt. Ted Bordman and officers Sutagee Anglin and Robert Egidy received the Life Saving Award as well as the Distinguished Service Award for rescuing an individual from the basement of a house on fire in December 2012.
Officers George Baker, Larry Hamilton, Tracy Russell, Brett Horner, Peter Kerby, Micah Stegall and Matthew Leslie also collected the Life Saving Award for actions that saved or prolonged the lives of others over the last year.
Cpt. Steve Zarnowiec also earned the Distinguished Service Award for lifting a man and woman to safety after they had both been hanging over the railing on the Kansas River bridge in July 2010. Zarnowiec was off-duty and was riding his bike to work at the time, police said.
The Commendation Award was given to officers Michael Ramsey and Shawn Gross for an October 2012 incident in which they subdued a suspect holding a gun.
Eight members of an LPD and Douglas County Sheriff's Department drug enforcement unit also received the Commendation Award after confiscating 515 pounds of high grade marijuana, over a hundred firearms, methamphetamines and cocaine in June 2012. Sgt. Trent McKinley, an LPD spokesperson, asked for the officers' names not to be published.
As the event transitioned to the police academy graduation ceremony, LPD chief Khatib instructed the newest members of his force to learn from the evening's distinguished individuals.
"I would say, strive to be like those citizens in our community who step forward and be part of the solution and strive to be like those officers that have gone the extra mile," he said.
Copyright 2018 The Lawrence Journal-World. All rights reserved. This material may not be published, broadcast, rewritten or redistributed. We strive to uphold our values for every story published.