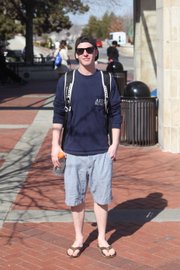 Name: Kevin Kitsis
Age: 21
Hometown: Minneapolis, Minn.
Time in Lawrence: Four years
Occupation: Film student
Dream job: Become the No. 1 screenwriter in the world.
What were you doing when scouted: Walking back to my apartment.
Describe your style: I tend to do a mix of indie, hipster and causal. Today, I just threw on my faternity long-sleeve shirt. On a normal day, it's all J.Crew. It's kind of like indie L.A. hipster.
Fashion trends you love: The skinny knit ties, which I like to wear when I go out. I like button-down shirts, zip-up hoodies and skinny jeans.
Fashion trends you hate: Besides Uggs, I like people wearing their own thing.
Fashion influences: Joseph Gordon-Levitt's style is awesome. He's basically the definition of GQ.
What would you like to see more of in Lawrence: Tie clips!
Less of? Frat clothes, pink salmon shorts, sperrys and croakies.
Whom do people say you look like? Joseph Gordon-Levitt and Tom Cruise.
Tell us a secret: My uncle wrote the show "Lost."
Copyright 2018 The Lawrence Journal-World. All rights reserved. This material may not be published, broadcast, rewritten or redistributed. We strive to uphold our values for every story published.