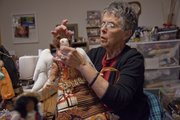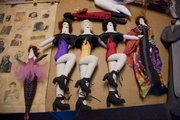 If You Go
What: People from around the region sell handmade arts and crafts
When: Nov. 17 from 9 a.m. to 4 p.m.
Where: Community Building, 115 W. 11th St.
Admission: free
Pat Glover works in her home studio in Lawrence, making fabric sculptures three at a time.
All of the sculptures are of women, each wearing clothing representing different eras. Some wear tutus, or kimonos, or the sparkly fringe dresses reminiscent of the Roaring '20s.
Glover began making the small sculptures in the mid-1980s, selling them at craft fairs and in stores. Almost 30 years later, she's making more varieties than ever before.
"I must get bored easily because I have to keep changing what I make," Glover said. "I just love it. I love what I'm doing, so I've kept going all these years."
Glover will be one of 130 exhibitors selling handmade arts and crafts during the 37th annual Holiday Bazaar this Sunday. The Bazaar, hosted by Lawrence Parks and Recreation, will be held at the Community Building, 115 W. 11th St., from 9 a.m. to 4 p.m.
The event acts as the beginning of the holiday season in Lawrence and draws an estimated 4,000 people to the community.
Exhibitors come from all around the region to sell a variety of handmade items such as wood furniture, paintings, pottery, stained glass, jewelry, quilts and photographs.
This Sunday will be Glover's first appearance at the Holiday Bazaar, though she has sold her work at similar events in the past, including Lawrence's annual Bizarre Bazaar.
Glover left Lawrence a few years ago to sell her sculptures at a store in Nashville, also leaving the circuit of handmade arts and crafts fairs. She moved back to Lawrence in February, hoping to start where she left off.
"I'm going to try to get my feet wet again and see what the reaction is, to see if there's any interest in selling them here," Glover said.
Glover began making the fabric sculptures as a means to stay at home to watch her young kids while gaining some income. During that time, she was inspired by women seen in old photo albums, like the woman wearing a long wool coat in an album belonging to a friend's mother. A depiction of this woman became her first sculpture, titled "Best Friends."
In addition to some of the old favorites, Glover will bring in some new designs to sell at the Holiday Bazaar.
"It's worth a try to translate into fabric anything that I get an idea from," Glover said. "I also enjoy updating some old designs."
Copyright 2018 The Lawrence Journal-World. All rights reserved. This material may not be published, broadcast, rewritten or redistributed. We strive to uphold our values for every story published.