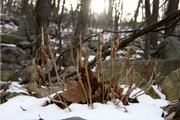 A "hard freeze" has a pretty loose definition, but most forecasters will warn of one when they expect temperatures at or below 28 degrees for a minimum of four hours.
Just as I was ready to hibernate with the remote control and the football schedule, it dawned on me that there were a few important, if not critical, plays to run in the garden game before the end of the fourth quarter. The clock runs out when the first hard freeze sounds the buzzer.
Lawns: The final mow. One last time this season, call in the ground crew. Mow at the recommended height for the last gasp of grass growth and to mulch up the layer of leaves that has accumulated. There is no need to rake or pick up the leaves if you are using a mulching or side-discharge mower. In fact, you are just adding organic material to the soil and repositioning the nutrients you already have. I do pick up some of the last cuttings for my compost bin, but only if I'm feeling energetic.
Lawns: The second fertilizer application needs to be made in November. The first was made in September, around the time we reseeded or aerated. The rate of application is still the same: 1 to 1½ pounds of actual nitrogen per 1,000 square feet. We need not use a fast-release fertilizer this time. This application is what will jumpstart the new growth in the spring.
Hoses: Stronger and more resilient to weather than they used to be, hoses can still benefit from winter care to prolong their expected service. Any warranty information and especially the original receipt is long lost, so the five-year guarantee under normal use does not apply. Rupturing due to freezing is common, but freezing, thawing and sun exposure can leave your hoses discoloring, cracking, and kinking come spring. Definitely disconnect them from any faucets, drain all the water and place them out of direct sunlight.
Containers: Ceramic pots (especially the expensive glazed ones) will not survive the water and ice that gets dumped on their heads with winter's final victory. Remove and discard all the plants and soil, wash them down, and store them either upside down, well covered or in a protected location. Even if you think they will drain, the unglazed portion will absorb water and likely fracture with freezing.
Fragile plants: Know this: an outdoor plant brought inside does not a house plant make. We may have some fragile plants, geraniums for example, we want to save. House plants are so chosen because they can flourish with a little ambient light, but our annuals cannot. The moment we relieve them of their starting position, they get out of shape and start to die. Our job now is to prolong the final moment till recruiting season. Place them in a cool location (just above freezing), and do not transplant, trim, fertilize or in any way encourage their comeback. A small amount of water will deter desiccation. Let them keep all their reserves for spring training.
Snow removal: The snow will come. The last thing I want to do is fuss with the shovels or the snow thrower in the pre-dawn hours. Find the gloves, heavy coat and boots. Clean up the shovel, especially the handle, and put it within reach. Check the oil and gas for the blower and start it just to assure game readiness.
OK, great job. Now enjoy the Super Bowl knowing your team is up and ready for spring tryouts.
Stan Ring is the Horticulture Program Assistant for K-State Research and Extension in Douglas County. Extension Master Gardeners can help with your gardening questions at 843-7058 or mastergardener@douglas-county.com.
Copyright 2018 The Lawrence Journal-World. All rights reserved. This material may not be published, broadcast, rewritten or redistributed. We strive to uphold our values for every story published.