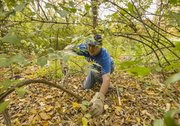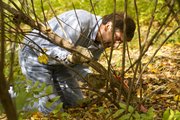 Durand Reiber wouldn't go as far as to call bush honeysuckle the bane of her existence. But it's close.
In her 12 years as manager of the Lawrence Hidden Valley Camp, Reiber has spent much of her time trying to eradicate the invasive species, which crowds out plants native to Kansas. Despite her best efforts, Reiber faces a nearly impossible task.
"It has no predators, no diseases, nothing to naturally control it," she said of the leafy green plant that sprouts tiny red berries.
On a recent day at the privately owned Girl Scout camp, Reiber walked down a sloping hill in the forest. "What you see here," she said, pointing to a lightly wooded area, "is pretty much what a Kansas woods is supposed to look like. Kansas woods were once described as kind of like 'open parkland.'"
Over there, she motioned, is what happens when bush honeysuckle takes over: dense, green growth crowding out anything underneath. "It makes the woods really hard to explore," said Reiber, who has the peaceful air of someone who has devoted her life to nature. "In some areas, it's just impenetrable. You have to have loppers with you to get through."
Bush honeysuckle, the name for the area's two most common invasive honeysuckle breeds (Amur and Morrow's), was introduced to Kansas with the best of intentions. In the mid-20th century, state forestry and wildlife agencies recommended the plant, which originated in Asia, as a source of food and shelter for wildlife and to control erosion. It was also considered an ornamental plant that was good for landscaping.
But it now plagues wooded areas across the state, particularly in the northeast. Because bush honeysuckle is the first plant to leaf out in the spring and last to lose its leaves in the fall, it takes water, nutrients and sunlight away from native species. Birds eat its berries, dropping the seeds and further spreading the plant.
"Forests become a monoculture of bush honeysuckle and you don't see anything else in there," said Ryan Armbrust, forest health and conservation forester for the Kansas Forest Service. "It doesn't play fair with other, native plants."
The plant's berries were later determined to have no nutritional value for birds, and it was found to provide inadequate cover for wildlife, leading to increased predation.
Fortunately for Reiber and other nature lovers, it's an issue with a growing amount of awareness. Organizations like the Kansas Trails Council, Grassland Heritage Foundation and Kansas Native Plant Society are looking for ways to eradicate the plant. The Kansas Forest Service in 2011 began partnering with communities and agencies across the state to address the problem; the city of Lawrence was initially involved but opted out.
"It was determined in house that we could handle it ourselves," said Mitch Young, a district supervisor for Lawrence Parks and Recreation.
The city of Lawrence is currently focusing all its eradication efforts on Prairie Park Nature Center, where bush honeysuckle has been encroaching onto paths. However, the plant has reportedly also been spotted at such locations as L.R. "Dad" Perry Park, Centennial Park and Martin Park.
Steve Unruh has noticed bush honeysuckle increasingly dominating wooded areas near his home south of Clinton Parkway in west Lawrence. "I run up north on a nice trail along a stream there and I've watched this forest get taken over," he said. "There are still parts of it that are OK, that are still beautiful. I don't know what to do."
He said he would like to organize a volunteer effort to clean up the plant in city parks. "People don't really pay attention to the forest," said Unruh, a 65-year-old social worker. "They don't realize bush honeysuckle is choking out everything."
Connecticut, Massachusetts, New Hampshire and Vermont are the only states to prohibit either Amur or Morrow's honeysuckle. In Kansas, state agencies have instead decided to take the approach of spreading awareness, including to nurseries and garden centers, on the harmful nature of bush honeysuckle in the hopes people will stop selling and planting it.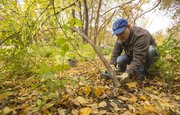 While it may not be eradicated anytime soon, experts say the plants' prevalence can be reduced by pulling them out at the root before they mature as well as cutting and spraying them with herbicides.
At Lawrence Hidden Valley Camp, Reiber never expected her job to be so consumed by bush honeysuckle. But after she became park manager in 2001, she noticed how small the camping sites looked. "I thought, 'How are they supposed to get so many people in there,'" she said. "So I started clearing around the edges. That's when I realized that all the growth encroaching on our open spaces — our trails, alongside the road, everywhere — was this honeysuckle shrub."
Four times a year, volunteers come to the camp for workdays. But because there are so many other projects at the park, only about 10 to 20 percent of the work is focused on bush honeysuckle removal. Even if all of it were, though, that likely wouldn't be enough to get the plant under control. So what would be?
Said Reiber: "You would have to have an army of volunteers out here every day."
Copyright 2018 The Lawrence Journal-World. All rights reserved. This material may not be published, broadcast, rewritten or redistributed. We strive to uphold our values for every story published.