Photo Gallery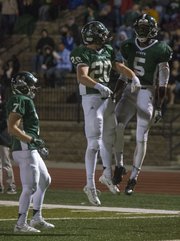 Free State football vs. Shawnee Mission Northwest
Summary
SMNW FSHS
First downs 7 13
Rushes-yards 36-98 53-251
Passing yards 4 134
Total offense 102 385
Return yards 72 61
Fumbles-lost 2-1 3-1
Penalties-yards 3-15 1-10
Score by quarters
SMNW 14 0 0 0 — 14
FSHS 7 7 20 6 — 40
Individual statistics
Rushing
SMNW: Duron Lowe 8-59, Justin Moody 11-33, Kota Gottfried 3-22, Jake Horner 9-17, Alex Quinn 1-5, Laphonso McKinnis 3-2, Alex Springer 1-minus-40.
FSHS: Stan Skwarlo 21-86 TD, Joe Dineen 14-72 2 TDs, Blake Winslow 11-64 TD, Bryce Torneden 2-23, Carson Bowen 2-5, Keith Loneker 1-3, Team 2-minus-2.
Passing
SMNW: Horner 2-8-4 interception.
FSHS: Dineen 7-15-134 2 TDs.
Receiving
SMNW: Lowe 1-2, Max Jenks 1-2.
FSHS: Khadre Lane 3-84 2 TDs, Loneker 3-44, Andrew Keating 1-6.
HOW THEY SCORED
First quarter
8:28 — Jake Horner 8 run. Jonathan Killeen kick. (SMNW 7, FSHS 0.)
3:38 — Gabriel Falcon 23 fumble recovery return. Killeen kick. (SMNW 14, FSHS 0.)
1:31 — Joe Dineen 50 run. Alex Trent kick. (SMNW 14, FSHS 7.)
Second quarter
3:00 — Blake Winslow 32 run. Trent kick. (SMNW 14, FSHS 14.)
Third quarter
9:48 — Dineen 1 run. Trent kick. (FSHS 21, SMNW 14.)
3:12 — Khadre Lane 39 pass from Dineen. Trent kick. (FSHS 28, SMNW 14.)
1:06 — Lane 34 pass from Dineen. Trent kick failed. (FSHS 34, SMNW 14.)
Fourth quarter
3:50 — Stan Skwarlo 2 run. Trent kick blocked. (FSHS 40, SMNW 14.)
Free State High's football coaching staff might have brought in a sports psychologist for its players by now if they didn't keep on winning.
All season the Firebirds have bemoaned their slow starts. Sure enough, they had another one Friday, in the first round of the playoffs against Shawnee Mission Northwest, the bottom seed of the Class 6A east playoffs bracket.
Top-seeded FSHS found itself in a 14-point hole before the first quarter ended, but once senior quarterback Joe Dineen and his teammates got comfortable, the Cougars didn't stand a chance in a 40-14 Firebirds victory at FSHS.
Coach Bob Lisher, much like every person in the stadium wearing Free State green, had to shake his head about the way SMNW (3-7) took a two-touchdown lead less than nine minutes into the game.
"I don't know if I've ever been around a team that's done that (started slow) pretty much every game this year except for one," Lisher said, "where we're down 14 or six or whatever it may be. The good thing about our team: We're resilient. We shut them down after that and scored 40 points. We're doing something right."
The first sign that the Firebirds (9-1) weren't prepared to have their season end in their postseason opener came on third-and-one from mid-field, late in the first quarter. With his team trailing, 14-0, Dineen kept the ball on an option read, beat a SMNW linebacker to the right sideline, juked a defensive back to free up a running lane and went 50 yards for the first of six unanswered touchdowns for FSHS, four of which the quarterback accounted for.
"We knew we needed to get something going, and the coaches stayed on us and remained confident in us," Dineen said of the mood on the sideline after falling behind to a team FSHS defeated, 20-3, in the regular season. "(The Cougars) were whooping us, honestly, and we needed to get something going. Luckily, I was able to break one around the outside with all the blocking help."
The long run woke up the entire roster, beginning with the defense, as the following SMNW drive went three-and-out, once Winslow and Shane Hofer brought down running back Justin Moody for a two-yard loss on third-and-one.
Two offensive possessions later — after Lucas Werner, Keith Loneker and Carson Bowen stuffed another SMNW third-down conversion attempt — Dineen completed an 18-yard pass to Loneker to keep the drive alive, and Winslow scored from 32 yards out on an option pitch on the next play. Once Alex Trent came on to kick the extra point, FSHS had tied the game at 14 with 3:00 left until halftime.
The Firebirds truly took off in the second half, and SMNW helped them with a high snap on its opening series that forced punter Alex Springer to chase the ball 40 yards behind the line of scrimmage before he fell on it for a turnover on downs. Dineen ran for an easy one-yard score less than three minutes into the third quarter, and Free State never looked back.
Senior receiver Khadre Lane created the next two FSHS touchdowns with Dineen's help. The two had perfect timing on a 39-yard score that Lane brought down in the end zone, despite being interfered with. The following Free State possession also ended with a timing throw to the end zone, and Lane grabbed it in stride for a 34-yard touchdown.
"I know Khadre's a great receiver," said Dineen, who completed seven of his 15 passes for 134 yards. "All I have to do is throw it high and far, and he's gonna run it down. He's great. You can't ask for a better receiver."
The two weren't in sync earlier in the season, though, Lane admitted.
"We've got it rolling lately," he said. "We'll see if we can keep it rolling."
Senior running back Stan Skwarlo (21 carries, 86 yards) finished off the Free State playoff victory with a two-yard touchdown run late in the fourth quarter,
But mistakes came before the 40-0 response. FSHS opened the game with an unsuccessful drive, and as Winslow prepared to punt on fourth-and-16 from his own 31-yard line, he fumbled a low snap, and the Cougars brought him down for a 13-yard loss. It only took five plays for SMNW to take the lead on an eight-yard touchdown run by senior quarterback Jake Horner.
Next, the Cougars scored on defense, with a 23-yard touchdown return by senior lineman Gabriel Falcon, who recovered a Dineen fumble.
"That's on me. I shouldn't have fumbled," said Dineen, who ran for 72 yards. "There's no excuse to fumble the ball. I put it on the ground, and they made a good play off of it."
Lisher said he was proud of his players for how they retaliated.
"At the start of the game, some of us have yet to realize we're playing a game," Lisher said. "Hopefully we learn that pretty quick. We've been waiting to learn it for 10 weeks now."
On Friday, FSHS will play at Olathe North, which beat Blue Valley Northwest, in the second round of the playoffs.
Copyright 2018 The Lawrence Journal-World. All rights reserved. This material may not be published, broadcast, rewritten or redistributed. We strive to uphold our values for every story published.