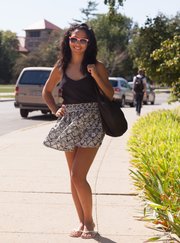 Age: 21
Relationship status: I have a boyfriend.
Hometown: Topeka
Time in Lawrence: 3 years
Occupation: I'm a bartender and I'm majoring in Arabic and Islamic studies.
Dream job: I'm hoping to get a job with an oil company overseas. There's supposed to be a big boom in sub-Saharan Africa in the next decade, so I want to be there.
What were you doing when scouted? I was just heading to class.
Describe your style: My style is mostly a casual cute. I want to keep it pretty feminine, but I don't want to try too hard on campus.
Fashion trends you love: Besides high-waisted clothing, I am obsessed with high heels!
Fashion trends you hate: I just don't like the big black-and-white stripes. It makes people look like the Hamburglar! I'm not a big fan.
Fashion influences: Being in Lawrence, you'll see a lot of different people. I also read fashion magazines and try to keep up with them. I do a little bit of modeling on the side as a hobby, so I'm always studying different styles.
What would you like to see more of and in Lawrence? I'm kind of over the Nike shorts and sharks T-shirts. I feel like if you live in Lawrence that's just like a staple.

Whom do people say you look like? That's hard. I've gotten Kat Graham from Vampire Diaries.

Tell us a secret: I've always dreamed of sneaking off to a little hut in Zanzibar for the rest of my life. I wouldn't work. I would only work with the community.
Copyright 2018 The Lawrence Journal-World. All rights reserved. This material may not be published, broadcast, rewritten or redistributed. We strive to uphold our values for every story published.