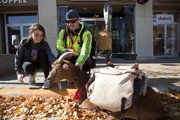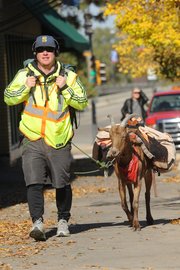 On Saturday afternoon outside the Starbucks in downtown Lawrence, a mob of photo-snapping passersby reached Wigginsian proportions for a man and his pack goat.
Steve Wescott, 34, of Seattle, is 18 months into a planned 3,100-mile walk — dubbed Needle 2 Square — from his home town to Times Square in New York City in an effort to raise money for an orphanage in Kenya he and a friend founded. Wescott and his 7-year-old goat, LeeRoy Brown, are passing through the Lawrence area as they continue an already lengthy trek across Kansas.
As Wescott grabbed a vanilla latte Saturday, LeeRoy Brown grazed in a bed of leaves on the curb outside the Starbucks on Massachusetts Street. By the time the drink was poured, LeeRoy was holding court with Kansas University students, children and anyone else who saw him.
"He doesn't talk," Wescott said, "but he probably starts more conversations than anyone I know."
Wescott figures he would have made it to New York long before now had he gone it alone, but "if not for (LeeRoy Brown) no one would know who I am."
The fanfare the two attracted downtown was modest when compared with some stops along the way thus far. Wescott and LeeRoy Brown attracted nearly a hundred people snapping photos with the cellphones in Portland, according to the Portland Tribune. The Steamboat Pilot & Today reported cellphones were again pointed their way in Steamboat Springs, Colo., as they enjoyed a gondola ride.
And Wescott still isn't sure whether a woman was trying to take a photo of them as she drove past on a highway, or if she was simply driving while texting. Either way, as they dove off the highway, Wescott could feel his shoes graze her tires.
This "most epic journey," as Wescott calls it, is largely sustained by spur-of-the-moment encounters, with shelter found on the fly by Good Samaritans willing to take in a man and his goat for any length of time.
Wescott said he plans to stay in the area for at least a few more days as he and LeeRoy Brown continue toward a "Welcome to Missouri" sign that has been the subject of daydreams lately — they've spent a lot of time in Kansas, he said.
"After Missouri, it's all downhill," Wescott said, referring to an uptick in large cities where he figures it will be easier to find a place to stay.
By the time the two reach Times Square, Wescott hopes, they will have drawn enough attention — and funds — to sustain Uzima Outreach and Intervention, a Christian nonprofit that he and a friend, Steve Turner, started in Kenya.
For now, there's no concrete end date planned. Wescott was asked as much longer outside Starbucks on Saturday.
"Before I die," he said. "Goats are slow."
Copyright 2018 The Lawrence Journal-World. All rights reserved. This material may not be published, broadcast, rewritten or redistributed. We strive to uphold our values for every story published.