Photo Gallery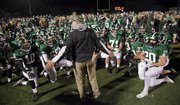 City Football Showdown
During a timeout midway through the fourth quarter, Lawrence High coach Dirk Wedd gathered his players and told them this was the most important five minutes of their football lives — an unexpected speech considering his team was down by 18 points.
Wedd was constantly getting updates from those on his sideline reading Twitter updates on their cellphones. Kansas City Wyandotte was beating Leavenworth by a wide margin, so LHS still had a chance at the playoffs — and even more so if the Lions could squeeze a touchdown out of their final drive.
The crushing part after LHS's 28-10 loss to Free State on Friday night will be knowing just how close the Lions came to a playoff berth.
Five yards. One pass. And — after the night was over — one measly point.
On its final drive, LHS drove it all the way to the Free State five-yard line with 53 seconds left, but after a run for no gain from Kieran Severa, Nyle Anderson's pass toward the end zone was picked off by Free State's Bryce Torneden.
"That was kind of the story of the night: get in the red zone and can't capitalize," Severa said. "That's really tough. It's really backbreaking in a game like that."
The Lions wouldn't know how backbreaking until about a half-hour later. When Wyandotte completed a 38-28 victory over Leavenworth, the final playoff spot in the district came down to 1-2 Leavenworth and 1-2 LHS.
Leavenworth's point differential was negative-four. Lawrence High's was negative-five.
The Pioneers — needing a touchdown and two-point conversion late in the fourth quarter when trailing 38-20 — were able to get both to secure the exact point total needed to go in front of LHS.
The Lions, when looking back to Friday's game, will mostly remember the turnovers. LHS gave it away six times, which included four fumbles and two interceptions.
"They're a great football team, and you can't give them anything," Wedd said of Free State. "We were giving it to them right and left."
One of the biggest momentum swings came in the second quarter, as running back Drew Green's fumble was scooped up by Free State's Keith Loneker and returned 53 yards for a touchdown.
"It's just unacceptable for me to put the ball on the ground," Green said. "You can't make mistakes like that."
Green still played until he literally couldn't any more. He ran 22 times for 102 yards in the first half alone before exiting in the third quarter with cramps … in his entire body.
Though he drank two Gatorades before leaving LHS to come to the game, Green didn't return after being helped off the field late in the third quarter.
"My body's locking up. My hands and my arms. Just about everywhere," Green said. "I've cramped before, but not on this kind of a night."
When LHS (3-6) was able to secure the ball, it had plenty of success on the ground with help from a strong performance from its offensive line. The Lions rushed for 210 yards on 51 carries, and that was without the workhorse Green in the final quarter.
In his final game, Green finished with 27 carries for 117 yards.
"I was giving everything I had every single play," Green said. "Everything I did, I was giving it all, because you never know which one's going to be your last."
Green and Severa were part of an 18-person senior class that Wedd asked to help lead a young team.
"They never one time backed down from that responsibility," Wedd said. "I admire them a great deal."
Copyright 2018 The Lawrence Journal-World. All rights reserved. This material may not be published, broadcast, rewritten or redistributed. We strive to uphold our values for every story published.