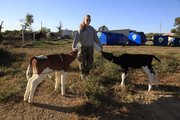 Iwig Family Dairy's annual Fall Festival will go on this weekend, probably under sunny skies even as the farm slogs through financial problems and uncertainty about its future.
The dairy has been playing host to the free, family-friendly event for six or seven years, owner Tim Iwig said.
"It's just easy fun," he said.
Iwig's Fall Festival is planned for 11 a.m. to 6 p.m. Saturday at the farm, 3320 S.E. Tecumseh Road in Tecumseh, about a half hour's drive from Lawrence.
The event is expected to include milking demonstrations, hayrack rides, live music, crafts and other activities. Barbecue and concessions will be available for purchase.
Iwig said it's been a muddy week but that the ground seems to be drying out. And Saturday's forecast is good for a fall day — sunny with a high close to 60 degrees.
The multi-generation family dairy operates retail stores in North Lawrence, 622 N. Second St., and Topeka, 724 S.W. Gage Blvd. In recent weeks, Iwig closed its first Lawrence store, at 19th and Massachusetts streets.
Iwig's milk is unusual in that it's vat pasteurized, a low-temperature process proponents say maintains the milk's fresh taste and nutritional value. It's raised, processed and bottled on site and sold in refundable glass bottles.
Iwig filed for Chapter 12 bankruptcy in November 2012 and is currently in the reorganization phase. Iwig's next hearing is scheduled for Nov. 19 in Topeka.
Iwig said one investor has committed $250,000 to keep the dairy operating but that more money is needed.
A crowdfunding campaign Iwig launched in September has attracted few contributors. The deadline is Wednesday, and on Friday the campaign had raised just $5,780 of its $650,000 goal, according to the project's page on Indiegogo.com.
If reorganization is unsuccessful, Iwig said, "we stand the possibility to lose everything."
Iwig said he hopes the public and potential investors will consider the quality of his milk and that, unlike grain farmers, dairies like his didn't get subsidies to ease financial loss from the drought of recent years. Yet they still had to purchase grain at skyrocketing costs for their herds to eat.
"That hurt us very severely," he said. "If we can't afford to feed properly ... that hurts."
Copyright 2018 The Lawrence Journal-World. All rights reserved. This material may not be published, broadcast, rewritten or redistributed. We strive to uphold our values for every story published.