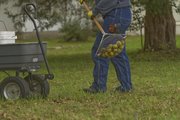 Most days this time of year, you can find Peggy Mersmann-Laptad hard at work, trying to revitalize the family business.
For two or three hours a day, she walks around her farm north of Lawrence, under the canopy of roughly 250 trees, scooping up walnuts with a basket-looking device at the end of the pole while dodging goats and any nuts that have yet to fall.
Reviving a family business is an ambitious goal, maybe more so when that business is walnut farming. But if she doesn't do it, who will?
"I'm the last of the Laptads in the area," said Mersmann-Laptad, wearing a sweatshirt, jeans and a ball cap over bushy gray hair on a recent, chilly fall day at Laptad Stock Farm, 1439 N. 1900 Road. "The farm was a second home to me. I've always felt like this is where I belong."
In 1854, according to family lore, two Laptad brothers came to Lawrence from Canada, purchasing four 80-acre plots north of town. Nearly 150 years later, all that remains in the family is 6.3 acres, which Mersmann-Laptad, 46, says she bought with "sweat equity."
The farm belonged to her maternal grandfather, Max Laptad, until his death in 1995. His wife then sold the majority of the land before her own passing nine years later, when Mersmann-Laptad moved in.
The property had suffered from years of neglect. The previously spotless farm buildings, including the barn that used to host weddings and frat parties, were a mess. The walnut orchard was encased with head-high brush that's still being cleared nearly a decade later; this was the first year Mersmann-Laptad has been able to harvest from the grove.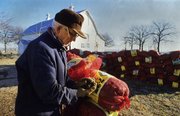 Mersmann-Laptad's goal of bringing back the walnut business became even more challenging after she lost the family's records in a 2011 fire that leveled her farmhouse. Also destroyed in the blaze were a family Bible passed down since the mid-19th century and a land deed supposedly signed by Abraham Lincoln. Mersmann-Laptad, who's currently staying with family in Lawrence, has spent the past two years battling with the county over a new building permit.
The only record of her grandfather's business she has been able to find is from 1987, when the Journal-World reported that Max Laptad had processed 48 tons of walnuts, making it "one of the biggest harvests in local history." Mersmann-Laptad only wishes she had paid closer attention as a youngster. "I wasn't smart enough to follow on my grandpa's heals growing up," she said. "I was too busy with mom and grandma. I should have been out here."
Mersmann-Laptad, who also works full time at a local call center, recently began trying to bring back another, long-dormant part of her grandfather's business: walnut hulling. After she tired of driving her walnuts about 50 miles to the nearest hulling station, in Valley Falls, she reached out to wholesaler Hammons to see if she, like her grandfather before her, could become a regional hulling station. Hammons agreed. The company now drops off the huller in the beginning of fall, then picks it up, along with the walnuts, in early November.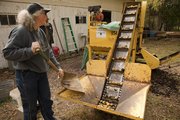 On a recent day, Steve Moring, who farms near Oskaloosa, stopped by to drop off some walnuts after coming across one of Mersmann-Laptad's fliers. Using a shovel, she scooped the greenish-brown nuts into the bottom of the huller, which, rumbling like a locomotive, carried them up a conveyer belt, skinned them and dropped the (now) black walnuts into a green mesh bag. While her boyfriend, a floppy-hat wearing, full-bearded man who wouldn't look out of place on "Duck Dynasty" and asked to remain anonymous, stood by, Mersmann-Laptad paid Moring the going rate of 13 cents per pound (she also gets a percentage for operating the huller). Nearby, walnuts made a plunking sound as they fell to the ground, narrowly missing the group. Mersmann-Laptad has taken her share of shots to the head from walnuts, which she also refers to as "ankle breakers" because of their keen ability to cause tripping.
Mersmann-Laptad has processed several thousand pounds of walnuts this year from people from across the region: Kansas City, Linwood, Baldwin City, Perry. She will continue hulling walnuts for the season through Monday and, she hopes, for many autumns to come.
Asked why she's going to all this trouble, Mersmann-Laptad said, in a statement that could be taken one of two ways, "It's hard to cut my roots out."
Copyright 2018 The Lawrence Journal-World. All rights reserved. This material may not be published, broadcast, rewritten or redistributed. We strive to uphold our values for every story published.