The three children who recently lost a father. The kid whose dad died a few years back. The child whose grandmother had just passed away.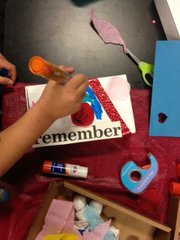 All had experienced tremendous loss. But at the new Keepsake youth grief support group in Lawrence, they came to find out they were not alone and could share their experiences to help others make it through their times of mourning.
Sarah Rooney has long worked with children and people going through periods of grief. But she noticed that while Douglas County had bereavement groups for adults, it had nothing of the sort for children. So she set out to create one.
The result is Keepsake, which first gathered in February and plans to meet again this Sunday from 1 p.m. to 5 p.m. at the Midland Adult Day Health Center, 319 Perry St. The day-long program, which is free and open to the public, is designed for children between the ages of 8 and 18. It is made possible by grant funding and the support of local organizations like Visiting Nurses Hospice, Midland Care Hospice and Rumsey-Yost Funeral Home.
"It's a chance for kids to realize they're not the only ones going through this," said Rooney, the volunteer coordinator for Visiting Nurses Hospice. "It's an uncommon thing to have a parent or someone close to them die. This gets them together with their peers to let them know they're not alone."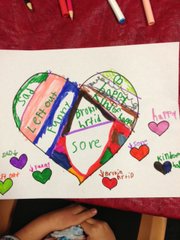 During group, the kids take part in sessions to learn coping tools, methods for expressing tough emotions, and ways to remember and celebrate the loved ones they lost. Along the way, they utilize their creativity by making crafts and keepsake boxes. Parents participate for the first two hours of each meeting, while the last two are just for the kids; Rooney said children are usually able to open up better when they're alone.
Keepsake, which is activity-driven and led by local counselors and social workers, is more about memorializing than reliving dark moments.
"This is not a therapy group, so we're not trying to bring up all these old emotions," Rooney said. "We're not sitting in a circle and crying the whole time."
Eight children and five parents attended the first group. Afterward, the kids filled out surveys, commenting that they now realized the feelings they were having were normal, knew better how to handle their emotions and had less fear that they would forget the person who died.
Keepsake youth grief support group
To RSVP, call (785) 843-3738 and ask for Sarah Rooney or Keepsake.
And that's the point of Keepsake: to equip the children with both physical and emotional mementos of their late loved ones.
"As a child, it must be so scary to think, 'I'm going to forget my dad,'" Rooney said. "We encourage the children to remember … and put down those memories and find a place to put them."
Copyright 2018 The Lawrence Journal-World. All rights reserved. This material may not be published, broadcast, rewritten or redistributed. We strive to uphold our values for every story published.