Douglas County law enforcement officers ran from Lawrence to Ottawa Tuesday as part of their annual Law Enforcement Torch Run to raise money for athletes competing in the Kansas Special Olympics.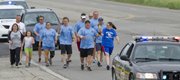 Officers from the Douglas County Sheriff's Office and the Lawrence Police Department started the 22-mile leg of the statewide relay at Crown Toyota Scion, 3430 Iowa St., about 8:30 a.m., running south along U.S. Highway 59 carrying the Special Olympics torch. They handed the torch off to runners from Franklin County law enforcement in Ottawa at Cargotec Services, 415 E. Dundee St., one of the run's sponsors.
The Douglas County runners were counting on about 10 officers to split the Lawrence-to-Ottawa run, each carrying the Torch of Hope for two to three miles, said Capt. Doug Woods, of the sheriff's office. From Ottawa, other law enforcement groups plan to carry the torch to Wichita for the start of the Special Olympics Friday.
Special Olympians and law enforcement officers carried the torch for the first half-mile of the run from Lawrence, Woods said. For the last mile to Ottawa, the officers joined together again to hand the torch off to Franklin County officers.
In Douglas County, the Torch Run is an opportunity to support local athletes who have competed in the Kansas Special Olympics summer games, including champion weightlifter Brady Tanner, of Lawrence.
"It's one of those things that's a little bit closer for us," Woods said.

In recent years, local participants in the Torch Run have raised more than $3,500 for the Special Olympics.
Local law enforcement members have been participating in the Torch Run for more than 30 years. For more information, visit the sheriff's office or the Kansas Special Olympics website and Facebook page.
Copyright 2018 The Lawrence Journal-World. All rights reserved. This material may not be published, broadcast, rewritten or redistributed. We strive to uphold our values for every story published.