Pouring rains couldn't stop local veterans organizations from memorializing their fallen comrades Monday.
While their Memorial Day ceremonies were moved inside by the heavy morning downpour, their message remained the same: Soldiers who died protecting our freedom should never be forgotten.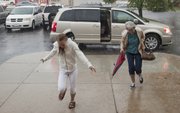 "Memorial Day is an important day not just for the veterans community but the community as a whole," said Michael Siroky, commander of Veterans of Foreign Wars Post 852, which relocated its ceremony from Memorial Park Cemetery to the post at 1801 Massachusetts St. (he reminds the public to check the post's Facebook page under VFW 852 for updates on where events are being held in the future). "It's important from time to time that we take a moment to focus on the sacrifice and hardship that servicemembers and their families have had to endure to maintain our way of life."
A smaller-than-expected crowd of about 30 to 40 people attended the event at VFW Post 852, which featured the normal ceremony minus the honor guard. Speaker Bob Burkhart discussed partnerships in patriotism within the community.
Over at American Legion Dorsey-Liberty Post No. 14, the day's ceremonies went on as planned, even after being moved there from Oak Hill Cemetery, where the veterans plot had been decorated with dozens of flags for the occasion.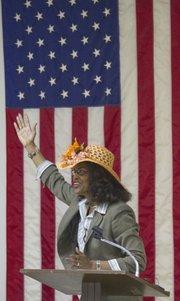 The American Legion Honor Guard and a local trumpeter performed in the rain outside 3408 W. Sixth St., while the flag retirement ceremony took place indoors. That's also where state Rep. Barbara Ballard, D-Lawrence, gave her thoughts on the importance of honoring our fallen soldiers and the American flag.
American Legion Lloyd Beaton Post 228 in Baldwin City had a turnout of 52 people despite the weather not cooperating, moving its ceremony from Oakwood Cemetery to the legion hall.
"Everything went off pretty good, except everybody was sitting there pretty wet," said post commander Tom Kleist.
Local teen Jenny Robbs played taps while Kleist gave a speech highlighting the selflessness of veterans (he also paid tribute to former President John F. Kennedy, who died 50 years ago this November).
Kleist said that after the recent Boston Marathon bombing, some veterans who had lost limbs in the Iraq and Afghanistan wars provided therapeutic and emotional support to victims who had similarly lost arms and legs in the terrorist attack.
"I think once you've been in the service you never lose your sense of duty and you never lose your desire to help your fellow Americans," Kleist said.
It's one reason local residents paid their respects Monday, even if they got soaked in the process.
Copyright 2018 The Lawrence Journal-World. All rights reserved. This material may not be published, broadcast, rewritten or redistributed. We strive to uphold our values for every story published.