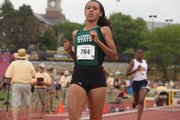 Wichita — Free State High's Alexa Harmon-Thomas had an uneasy few hours before the start of the state track and field meet.
Though she's only tripped over a hurdle once in competition, that one time came at last year's state meet in the prelims of the 100 hurdles — an event she was expected to win.
"I was just trying to keep the thought of falling out of my head, and it just kept coming back," Harmon-Thomas said. "So I tried to push it out and focus on everything else."
Turned out she had nothing to worry about.
Harmon-Thomas breezed to a prelim victory in the 100 hurdles, and that kick-started an impressive day for the junior, who went on to win the long jump and finish second in the high jump.
More importantly, those events added 18 points to the team score, with the Firebirds girls sitting in first place with 26 team points after Day One.
"It's a lot better feeling than a year ago," FSHS coach Steve Heffernan said. "A year ago we came in, and Alexa fell in the prelims, and then it was just uphill the rest of the way.
"Today, we had more positive things than we had negative things."
The biggest positive was Harmon-Thomas' performance in the long jump. Her final leap of 19 feet, 5 inches was just 11⁄4 inches off the 6A record of 19-61⁄4 set by Lawrence's Angela Graves in 1985.
Harmon-Thomas finished third in the long jump a year ago.
"I really, really wanted to win that event," Harmon-Thomas said. "Our team really needs the points."
Harmon-Thomas added her second straight runner-up finish in the high jump, clearing 5-8.
"The jump she had today I thought would win it," Heffernan said. "It just didn't win it this time."
Harmon-Thomas' teammate, Gabbi Dabney, also tied for third in the high jump, as did Lawrence High's Monica Howard. Both city competitors cleared 5-2 on their first tries.
That was a personal record for Howard, who was seeded 11th entering Friday. She'd also hit 5-2 in practice Wednesday, but that was on her fifth attempt.
She said taking third was a "shock."
"It's awesome," Howard said. "It hasn't quite sunk in yet, but it feels great."
Lawrence High's Erik Parrish added a fourth-place finish in the triple jump, going 44 feet, 3 inches on his third attempt.
Parrish was seventh last year.
"My first two jumps, my coach (assistant Brandon Dye) kept saying I was low, and I needed to pop up more. I just listened to what he said," Parrish said. "My last phase was perfect, and I got my foot up. My landing was a little bit off, but other than that, it was a good jump."
Lawrence's Grace Morgan took fifth in the 3,200 (11:32.23), and Free State's Claire Sanner was sixth (11:35.88).
The senior Morgan, who didn't even qualify for state in the 3,200 a year ago, had to keep up with a quick pace through the first lap.
"I ended up just pulling through," Morgan said. "It was really tough, just having to find some energy that I didn't know if I had or not."
The freshman Sanner also felt the pull of the leaders early.
"I didn't think it would go out quite that fast, so I just tried to stay calm and just race smart," Sanner said. "I felt good at the end."
Austin Gray had the best finals showing for the Free State boys, placing eighth in the shot put (47-61⁄2).
In prelims, Harmon-Thomas had the top time in the 100 hurdles (14.21 seconds) and 300 hurdles (43.66), while the LHS girls 4X400 relay team of Leah Gabler, Marissa Pope, Jensen Edwards, Kyleigh Severa also posted the best qualifying time (4:00.60).
Free State received a solid start in prelims from Laura Kennard, who was third in the 400 and sixth in the 200.
"I think overall, we're in really good shape," Heffernan said. "Last year we came pretty close (to a state title), given a bad start. This is a much better start.
"I think we're pretty excited, and I think the girls' confidence is really high."
The meet resumes at 8 this morning.
Copyright 2018 The Lawrence Journal-World. All rights reserved. This material may not be published, broadcast, rewritten or redistributed. We strive to uphold our values for every story published.