A leaky gutter, left unattended, can damage even the best foundation. Periodic checks of guttering, followed by the proper repair of any leaks, are an essential part of general home maintenance.
Step 1: Check gutters for leaks either during a rain storm or on a more inviting day by using a garden hose to flush a full stream of water into the gutter and out the downspout.
Step 2: Once leaks have been identified, choose to repair the gutter on a warm day when night time temperatures are expected to remain above 50 degrees, and the chance of rain is minimal.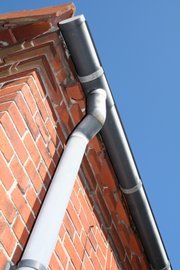 Step 3: Clean the area to be patched with a soft bristle brush and hot, soapy water. Wait for the gutter to dry before proceeding.
Step 4: For rusted metal gutters, use a wire brush to remove loose rust and debris. Wipe the area clean with denatured alcohol. Heavily rusted gutter sections should be coated with a rust inhibiting compound such as Loctite Extend or Rust-Oleum Rust Reformer.
Step 5: Small cracks and pin holes can be repaired with butyl rubber or polyurethane caulk. Apply a bead of caulk to the leaking area and smooth the caulk with a flexible putty knife.
Step 6: Holes in metal gutter can be patched by spreading a fair amount of roof repair cement over the section to be patched. Press a piece of roof repair fabric or a section of metal flashing into the wet cement and top the patch with another layer of roof repair cement. When applying metal patches, choose a patch made from the same type of metal as the gutter, i.e. aluminum for aluminum and steel for steel.
Step 7: Holes in both plastic and metal gutter can also be patched with a self-adhesive gutter patch. Cut the patch to size so it fits smoothly into the repair area. The patch should overlap the hole by at least 1 to 3 inches. Extra protection from future leaks can be ensured by lining the entire length of the gutter with a roll of self-adhesive patch material.
Step 8: Once the patch is in position, remove a small portion of the backing paper from the underside of the patch and press the patch into place. Continue to peel back the paper and press the patch into place, working out air bubbles and kinks along the way.
Copyright 2018 The Lawrence Journal-World. All rights reserved. This material may not be published, broadcast, rewritten or redistributed. We strive to uphold our values for every story published.