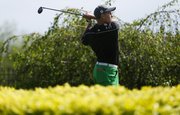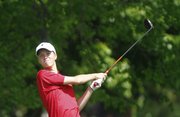 Prairie Village — Free State High senior Alex Green, typically lighthearted and quick to joke, seems to leave Meadowbrook Golf Course disgruntled about something every time he plays there.
Usually it's because the course's narrow, tree-lined fairways don't allow him to rip his driver and let the ball fly. But neither accuracy nor driving became a real issue for Green on Monday at the Class 6A state tournament. In fact, his overall game and 8-over-par score of 79 — tying him for 20th — were nothing to be upset about.
Still, like any golfer with a pulse, Green drove himself mad thinking about the little things that could have gone differently and propelled him up the leaderboard — closer to individual champion Andrew Beckler (71) of Topeka Washburn Rural, who beat out teammate John Wright in a playoff.
"I couldn't tell you how many putts I lipped out, or how many unlucky lies or breaks I had," Green said. "It was just one of those days."
The 65 golfers who carded higher scores than Green wish they had such a day. After struggling to find a rhythm on his first six holes, the city's top golfer strung together three straight pars on Nos. 7, 8 and 9, putting him at 6-over par. Then Green opened the back nine by draining a downhill birdie putt from more than 20 feet away.
Although he bogeyed 11 (one of his lip-outs), Green parred the next three holes and had a makable eagle putt on the par-5 15th. He missed it by less than an inch.
"I was about to fist-pump so hard," Green said. "And, of course, another lip-out."
Green wasn't wild about his birdie on 15 — one of three on his round — because he tormented himself thinking about his bogeys on the last three holes. The last two particularly frustrated him, because they came after a 26-minute lightning delay, which he said made him again feel out of sync.
After picking his ball up out of the 18th hole, Green, who said his round "wasn't pretty," thought about his last tournament as a Firebird.
"It was kind of bittersweet," he said. "Didn't play well, but I still shot in the 70s. It was a hard day. I mean, the course was set up to be a difficult golf tournament."
None of the city's other 11 golfers disputed that. Free State finished eighth of 12 teams with 328 — 28 strokes behind champion Blue Valley West — and Lawrence took ninth with 340.
FSHS senior Wilson Hack and sophomore Matt Siler both shot 81, which tied them for 31st. Hack felt exhausted by the time his round wrapped up, and part of that had to be mental fatigue. Hack lamented three-putting "a bunch of times" and missing the green on approach shots within 130 yards or so — "I mean, not even giving myself a chance for birdie," he said, shaking his head.
Free State senior Max Soto shot 87, freshman Jack Flynn finished with 90, and junior Hunter Dedloff had a 96.
Junior Rito Mendez led Lawrence with an 82, tying him for 40th. After opening on the back nine at plus-7, Mendez found his confidence growing down the stretch.
"I made a lot of up-and-downs, and I just started to fight through on the front nine," Mendez said, adding that the first nine holes were a little more open.
A year ago at state — played at Garden City — Mendez felt miserable after finishing with a 100.
"It's a good step," he said after improving by 18 strokes this season. "I would've liked to shoot a little better, but I'm happy with it."
LHS seniors Brett Van Blaricum and Brad Strauss each shot 83. Junior Tucker Sutter had a 92, senior Cole Cummins finished with 93 and sophomore Brent Cawhee totaled 98.
Van Blaricum said the Lions weren't thrilled about their ninth-place finish. He wasn't in love with his day, either. While Van Blaricum left pleased with his putting, tee shots were another matter. Like many golfers Monday, he said he spent too much time out of the fairway.
"If I had just hit the ball a little bit better, I'd have been in the 70s at least," the senior said, before sighing. "It's tough."
However, he couldn't help feeling good about his LHS career while walking down the 18th.
"I've enjoyed all the times I've had," he said.
Class 6A Boys Golf State Tournament
Monday at Meadowbrook Golf Course & Country Club, Prairie Village
Par 71
Team scores: 1. Blue Valley West, 300; 2. Shawnee Mission East, 306; 3. Topeka Washburn Rural, 307; 4. Blue Valley North, 315; 5. Dodge City, 316; 6. Olathe East, 322; 7. Manhattan, 323; 8. Free State, 328; 9. Lawrence, 340; 10. Hutchinson, 341; 11. Maize, 347; 12. Wichita Heights, 348.
Top 20 medalists (top-10 ties broken by playoffs): 1. Andrew Beckler, WR, 71; 2. John Wright, WR, 71; 3. Josh Barker, BVW, 72; 4. Alex Higgs, BVN, 73; 5. James Henderson, BVW, 73; 6. Connor Knabe, SME, 73; 7. Zach Kirby, DC, 74; 8. Chase Hanna, SME, 76; 9. Alex Springer, OE, 76; 10. Dillon Funk, Olathe NW, 76; tie-11. Mitchell Bolton, 77; tie-11. Sam Galliart, Hutch., 77; tie-11. Caleb Haight, WH, 77; tie-11. Jon Hughes, GE, 77; tie-11. Kyle Fecteau, BVW, 77; tie-16. Gabe Millikan, BVW, 78; tie-16. Chad Carlson, BVW, 78; tie-16. Scott Woods, MHS, 78; tie-16. John Sallaz, SME, 78; tie-20. Evan Shartzer, BVN, 79; tie-20. Brad Hutton, DC, 79; tie-20. Levi Bone, DC, 79; tie-20. Andrew Spencer, SME, 79; tie-20. Cole Dillon, MHS, 79; tie-20. Alex Green, FS, 79; tie-20. Kale Reynolds, Maize, 79.
Free State results: tie-20. Green, 79; tie-31. Wilson Hack, 81; tie-31. Matt Siler, 81; tie-63. Max Soto, 87; tie-65. Jack Flynn, 90; tie-82. Hunter Dedloff, 96.
Lawrence results: tie-40. Rito Mendez, 82; tie-46. Brett Van Blaricum, 83; tie-46. Brad Strauss, 83; tie-69. Tucker Sutter, 92; tie-75. Cole Cummins, 93; tie-86. Brent Cawhee, 98.
Copyright 2018 The Lawrence Journal-World. All rights reserved. This material may not be published, broadcast, rewritten or redistributed. We strive to uphold our values for every story published.