When the midfielders for Free State High's girls soccer team get a chance to make a play on offense, coach Kelly Barah doesn't want it to be scripted and predictable.
Photo Gallery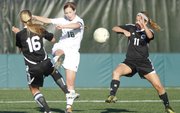 Free State soccer v. Olathe Northwest
Images from Tuesday night's game against Olathe Northwest.
It's the job of senior Chelsea Casady and juniors Hadyn Hutchison and Maddie Dieker to read a play and improvise to create the best possible chance.
In the 53rd minute of the Firebirds' Class 6A regional playoff opener against Olathe Northwest Tuesday night, Casady and Dieker saw their chance to ad-lib. Casady dribbled ahead near midfield, drawing the Ravens' attention as Dieker spun away and made a run through the defenders. With perfect timing, Casady sent a pass to Dieker, who scored the only goal in a 1-0 FSHS home victory.
The midfielders had spent a lot of practice time making such runs, and Casady's chip pass over the top wasn't exactly perfect, but the Firebirds (10-6) weren't complaining after it kept their postseason alive.
"It was out of my reach, but I extended and just tapped it right past the goalie," Dieker said.
Casady said it's easy for her and Hutchison to play off of Dieker, because of her expert touch.
"I think that was a perfect example," Casady said. "When we do get our center-mids up and attacking, we can score, and it obviously makes a difference."
FSHS only came up with 11 shots against ONW (8-8) and its sophomore goalkeeper Ashley Heller (four saves). With few offensive chances appearing, the Firebirds looked to be in trouble in the first half, because the Ravens controlled possession.
However, every time ONW seemed to have a step, an angle or a legitimate crack at scoring, someone from Free State would step up and make a play.
Junior Olivia Hodison denied shots and passes. Senior Rylee Fuerst came out of nowhere to swipe the ball from opponents. Senior Madeline Caywood cut off paths toward the goal. And junior Allix Ice slowed attacks at times and stymied runs completely on occasion.
It all led to a ninth shutout of the season for the Firebirds and junior goalkeeper Annie Hierl (six saves).
Free State coach Kelly Barah said part of his team's struggles in the first 40 minutes came from the players having too much respect for the wind blowing at the Ravens' backs from the south.
"We were scared of that big ball that would beat us over the top, and so we started dropping way too much and too fast," he said.
But time after time, the Firebirds' back line and Hierl came up unharmed.
"It was impressive to see a unit that had been brilliant for us all year be able to stay strong in that first half," Barah said, "and give us a chance later on."
Casady agreed: "Our back line, if they weren't consistent, (the Ravens) would've scored."
Indeed, if it hadn't been for the quick, tough and occasionally creative defenders, Free State's season might have ended.
"They find a way to get a foot, a toe, a stomach (on the ball)," Barah said. "It's a matter of just getting something on it to stop that, and they've been brilliant."
The Firebirds play at Topeka Washburn Rural in a regional final at 6 p.m. Thursday.
Copyright 2018 The Lawrence Journal-World. All rights reserved. This material may not be published, broadcast, rewritten or redistributed. We strive to uphold our values for every story published.