A sellout crowd of 2,131 at Kansas University's Hoglund Ballpark provided the perfect setting for the visiting Kansas State baseball team to show just how talented its offense is.
Photo Gallery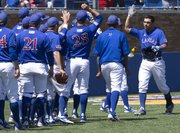 Kansas Baseball vs. Kansas State (game two)
Boy, did the Wildcats take advantage.
Facing a six-run deficit heading into the top of Saturday's fourth inning, the Wildcats responded with nine unanswered runs on nine hits over the next five innings to turn a seemingly pleasant afternoon for the Jayhawks into a nightmare that ended with K-State taking Game 2 of the crucial Sunflower Showdown series, 9-6.
Perhaps the best indicator of just how good the KSU bats are came at the expense of KU closer Jordan Piché, who gave up five runs on five hits in the final three innings. Two of the five hits went for home runs in the ninth, as Austin Fisher and Mitch Meyer helped the Wildcats break a 6-all tie with a three spot in their final at-bats.
"We were concerned about that all game," KU coach Ritch Price said of the long ball. "With the six left-handers in their lineup, we thought balls hit (to right field), from the foul pole to the scoreboard, were gonna be out of here easily. We left a couple balls (up) and they didn't miss 'em."
Perhaps the most disappointing thing about KU's collapse was that the power-challenged Jayhawks (31-20 overall, 12-11 Big 12) failed to capitalize on two home runs from senior first baseman Alex DeLeon in the second and third innings that helped KU build a 6-0 lead. From the fourth inning on, KU managed just two more hits.
"We kept talking about adding," Price said. "You can't sit on a six-run lead when the wind's blowing out."
Added DeLeon, who now has nine home runs: "Coach told us not to be comfortable with that (lead) because, obviously, K-State can swing the bat very well. It was just one of those games where they kept chipping away and then took the lead and we couldn't get anything going. The momentum kind of switched."
One of the most critical blows in the momentum shift came in the top of the sixth, when KU right fielder Dakota Smith lost a fly ball off the bat of K-State's Austin Fisher in the sun, then found it, but could not recover in time to make the play. The ball dropped between Smith and the warning track and allowed K-State (36-15, 13-7) to put runners on second and third with no outs. KU starter Wes Benjamin did a solid job of limiting the damage, but an inning that began with KU leading 6-1 turned out to be the start of K-State's charge.
"That kind of opened the floodgates," Price said of the double by Fisher.
Despite the miscues and their suddenly tepid offense, the Jayhawks remained in front and found themselves right where they wanted to be — leading in the seventh, with Piché ready to roll. Asked if he debated whether to bring Piché out for the seventh, Price said no.
"There was no doubt," he said. "Once we got in that position, they were gonna have to beat our best guy. We made some bad pitches and, like good hitters do, they made us pay for it. I think they're one of the better hitting teams that's been in our league."
The Wildcats did and, in the process, dealt a serious blow to KU's postseason chances. The back-to-back Sunflower Showdown losses make today's Big 12 finale as close to a must-win as a team can have.
"It's a tough loss, it hurts and we have to come back (today) and try to salvage the series," DeLeon said.
Added Piché when asked about the mood of the KU clubhouse: "It's pretty down in there. But we'll be all right. We'll get it back."
The series concludes at 1 p.m. today, with KU junior Frank Duncan facing KSU freshman Blake McFadden in the pitching match-up.
Kansas State 000 103 203 — 9 12 2
Kansas 015 000 000 — 6 9 2
W – Nate Williams (4-3), L – Jordan Piché (6-3), Sv – Tanner Witt (7)
2B: Jon Davis, KSU, Kevin Kuntz, KU, Jordan Dreiling, KU. HR: Alex DeLeon, KU, 2, (9), Mitch Meyer, KSU (4), Austin Fisher, KSU (2).
KU Highlights: Wes Benjamin 6 IP, 7 H, 2 ER. 7 K; Justin Protacio 1-for-5, R; Kevin Kuntz 1-for-5, 2 RBI; Alex DeLeon 3-for-4, 2 HR, 3 RBI, 2 R; Jordan Dreiling 1-for-4, R; Dakota Smith 1-for-3, RBI; Ka'iana Eldredge 1-for-3; Tucker Tharp 1-for-4, R.
Copyright 2018 The Lawrence Journal-World. All rights reserved. This material may not be published, broadcast, rewritten or redistributed. We strive to uphold our values for every story published.