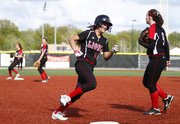 Lawrence High softball coach Nick Wood could sense some sluggishness from his players following their two losses to crosstown rival Free State earlier in the week.
That's why Wood believed Friday's 11-1 and 13-3 run-rule victories over Shawnee Mission North were vital, especially with the team beginning regionals next week.
"It's nice to have some momentum," Wood said, "and have the girls get on the field and have some fun."
LHS once again benefited by the return of Kenzie Garvin to the leadoff spot.
The sophomore, who had missed most of the past month because of a left shoulder injury before returning last week, combined for four hits and two walks in the doubleheader.
"She's done awesome," LHS third baseman Morgan Byrn said. "I swear she's been on base at least 90 percent of the time."
Byrn's math isn't far off. In Lawrence's last three games, Garvin has reached base safely in 11 of her 13 plate appearances (85 percent).
"It's nice, because whenever she's up, it gets us going," Byrn said. "When she gets on base, it just starts the rally, and everyone else kind of follows her."
LHS received a dominant effort in the circle in Game One, when Megan Sumonja allowed just one run in five innings while striking out nine.
The sophomore also surrendered just one hit — and even that one almost turned into an out. On a fourth-inning liner, Megan's younger sister Brook sprinted to the left-center gap and dove, only to have the ball tip off the edge of her glove for a single.
Lawrence's Marly Carmona provided a walkoff hit in the fifth, when her bloop double to right field drove in three and triggered the run rule.
The Lions showed additional pop in Game Two, when Andrea Mills and Garvin contributed doubles while Carmona and Byrn both added triples.
"It took us awhile to see (the pitch) and actually wait on it," Byrn said, "but I think during that second game, we really started the bats and realized what we had to do."
Garvin had two hits and three RBIs in Game One.
Byrn added a 4-for-5 performance in the nightcap with four RBIs and three runs scored, while designated player Sami Buffalomeat was 5-for-6 in the doubleheader with a walk.
LHS (8-12) most likely will be a No. 5 or 6 seed when regionals begin next week.
"We feel really strong," Garvin said. "I'm pretty sure we're all ready. We really want to win and go to state."
SM North 000 100 — 1 1 0
Lawrence 102 44x — 11 9 0
W — Megan Sumonja. L — Chloe Green.
2B — Marly Carmona, LHS.
LHS highlights — Megan Sumonja 5 IP, H, ER, 2BB, 9K; Kenzie Garvin 2-for-3, BB, SB, 2R, 3 RBIs; Sami Buffalomeat 2-for-2, BB, R; Marly Carmona 1-for-3, 2B, SB, 2R, 3 RBIs.
SM North 010 200 — 3 6 10
Lawrence 104 251 — 13 16 4
W — Amanda Montgomery. L — Catherine Reed.
2B — Ashlee Bishop, SMN; Kenzie Garvin, LHS; Andrea Mills, LHS. 3B — Marly Carmona, LHS; Morgan Byrn, LHS. HR — Caitlyn McNulty, SMN.
LHS highlights — Morgan Byrn 4-for-5, 3B, 3R, 4 RBIs; Sami Buffalomeat 3-for-4, RBI; Brook Sumonja 2-for-3, 2R; Kenzie Garvin 2-for-4, BB, 2B, 3R.
Copyright 2018 The Lawrence Journal-World. All rights reserved. This material may not be published, broadcast, rewritten or redistributed. We strive to uphold our values for every story published.