Year in and year out, they say that a couple of good pitching arms can win you a state tournament.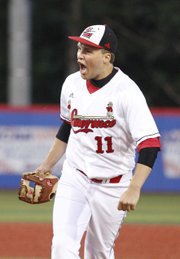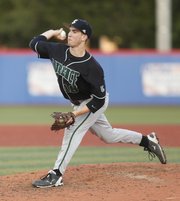 If that's true — and history has proven it can be — the Free State and Lawrence High baseball teams should feel pretty good about their chances during the next couple of weeks.
Although a few clutch at-bats in extra innings turned out to be the difference during Thursday's City Showdown won by LHS, 2-1, in 10 innings, at Kansas University's Hoglund Ballpark, neither team would have reached that point had it not been for the four strong outings on the mound that came before it.
"I think there are some really good pitchers in town," Free State coach Mike Hill said. "And pitching is a major component of this game. We saw that tonight: 2-1 in 10 innings at the high school level. That's something."
Starters Brandon Bell, an LHS junior, and Jacob Caldwell, a senior at Free State, set the tone for the night with complete command during the early innings of a game that zipped along without much offense from either side.
Caldwell, the only lefty on either varsity roster, checked out before the fifth after giving up just two hits. He walked three and struck out two before handing the ball to senior Sam Hearnen, who pitched the final six innings and also struck out two batters before walking in the game-winning run in the bottom of the 10th inning.
The Firebirds (17-3) picked up their run early off of Bell, but he was fantastic throughout, tossing seven innings and giving up just four hits and one run while striking out five and walking none before letting senior closer Shane Willoughby bring it home.
"We expected to get a great start from Brandon," LHS coach Brad Stoll said. "And, with Shane, we thought if we could get to him, we knew what we were gonna get out of him. He's really a true competitor, and he's just fueled to succeed."
Each team's offense got something going at the plate countless times throughout the late innings, only to have a potential rally stymied by the guy on the mound. Perhaps the best part for both squads is that the pitchers who threw Thursday night did not constitute either side's entire staff. The Lions (13-7) also feature senior righties CJ Stuever and Adam Rea and have a couple of others who can handle an inning or two. And the Firebirds' arsenal includes junior Ryan Cantrell and staff ace Dane McCullough, who beat LHS, 5-0, earlier this week.
"We feel like we have enough arms to get us deep into the postseason," Stoll said.
Added Hill: "I feel great about where we are. In the state playoffs, these are the types of games you're gonna play."
Copyright 2018 The Lawrence Journal-World. All rights reserved. This material may not be published, broadcast, rewritten or redistributed. We strive to uphold our values for every story published.