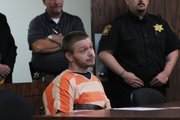 Related document

Ottawa homicides: Criminal complaint ( .PDF )
A 27-year-old Ottawa man, Kyle T. Flack, made his first appearance in court Friday afternoon. He was charged with two counts of capital murder, four counts of murder in the first degree, one count of rape and one count of criminal possession of firearms. Bond was set at $10 million.
Franklin County Attorney Stephen Hunting said Flack was charged with both capital and first degree murder, because the death penalty is still on the table. However, his office hasn't decided yet whether to seek it. Sheriff Jeff Richards said there was evidence that victim Steven White was killed before the other two victims.
Meanwhile, law enforcement continues to search for Lana by horseback, on foot and by boat.
The search for a missing toddler, now presumed dead, continued Friday on a rural Ottawa property where three bodies were discovered this week. The FBI and as many as 150 law enforcement officers in helicopters, planes and on horseback joined the search for the little girl's body and other clues in the quadruple homicide.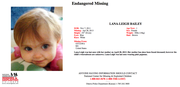 Franklin County Sheriff Jeff Richards said Thursday that the death toll in the case appeared to have reached four, as investigators believe the child had been killed along with her mother and two men who lived on the property, at 3197 Georgia Road, about five miles west of Ottawa.
The three adults' bodies were found Monday and Tuesday at the house, but 18-month-old Lana-Leigh Bailey has not been found. Richards declined to say why investigators believed she was dead. Efforts to find the missing toddler were "ramping up" Thursday, Richards said.
The victims
• Kaylie Kathleen Bailey, 22
An Ottawa native, Bailey had recently divorced the father of her 18-month-old daughter, Lana-Leigh Bailey. She worked as a security guard at an Ottawa American Eagle Outfitters, while staying part of the time with her grandparents in Olathe. She was reportedly dating Andrew Stout, who lived at the house on Georgia Road.
• Andrew Adam Stout, 30, Ottawa
Stout had lived in the house on Georgia Road for at least 10 years, neighbors said. His mother and brother owned the property, which he shared with at least one roommate, a Chanute man named Steven White. Stout had been affected by violence before — his fiancee was shot to death in Ottawa in 2009.
• Steven Eugene White, 31, Ottawa
Steven Eugene White, 31, was originally from Chanute and had moved into the residence with Andrew Stout after running into trouble in his hometown. White had spent time in prison on theft, drug and arson convictions, and was most recently released from prison in November 2009.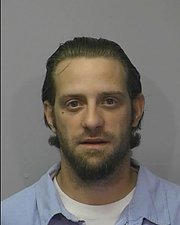 Lana-Leigh's mother, Kaylie Kathleen Bailey, 21, of Olathe, was found dead Monday in the garage of the home, while the other victims, Andrew Adam Stout, 30, of Ottawa, and Steven Eugene White, 31, of Ottawa, were found nearby.
Stout and White lived at the house where the bodies were found; Bailey apparently was Stout's girlfriend. The three were not positively identified until Wednesday afternoon. Officials have not said how they were killed. Friends and family have said they had not seen the three, or the child, since the middle of last week.
Investigation continues
Flack has been held for questioning since early Wednesday, when police located him, as well as Kaylie Bailey's car — found unoccupied in Emporia — which was also sought by police.
Flack, who spent four years in prison for a 2005 attempted murder, was booked into Franklin County Jail about 4:30 a.m. Thursday morning on suspicion of first-degree murder. Officials have 48 hours to file formal charges against him.
Franklin County Attorney Stephen Hunting said his office was reviewing the case to determine what charges to file against Flack, who is not yet represented by an attorney. Hunting and Richards declined Thursday to provide details about a possible motive. Leads continue to come in, they said.
The investigation could also lead to suspects other than Flack, Richards said Thursday afternoon.
"We're obtaining search warrants for various things," he said. "We're not just going to focus on the one person we have in custody."
Richards said Thursday that investigators were still looking for anyone who may have seen Bailey's car, a black 2007 Toyota Corolla with duct tape on the passenger side mirror.
Photo Gallery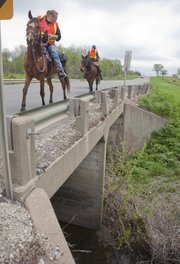 Ottawa: Search for missing girl
Law enforcement takes to horseback as it searches for baby Lana-Leigh Bailey, presumed dead.
By Thursday afternoon, police had extended the crime scene to include about a one-mile portion of the road leading up to the 4.7-acre property where the bodies were discovered. Searchers in all-terrain vehicles and horseback could be seen combing the dirt roads around the area. Richards said the rural location of the crime scene has made the search more difficult and time-consuming.
The area is a mixture of pasture and wooded areas, including numerous streams, ponds, and drainage ditches, he said. "It could take some time."
Family hopes for the best
In Olathe, Kaylie Bailey's family lit a candle for the deceased 21-year-old mother and held out hope for Lana-Leigh's safe return. Neighbors and relatives stopped by their home with food and a few kind words.
"We're all supporting each other, and that's the most important thing, said Shawna Pettijohn, Kaylie Bailey's sister. "We've had a lot of outreach from friends and family, which we appreciate."
Richards said the search will continue full-force until they find the missing child.
"We're still attempting to locate baby Lana," Richards said.

Anyone with information about the case is asked to call the Franklin County TIPS Hotline at 888-311-TIPS.
Lawrence crime, fire, courts coverage
Have a tip?
Contact Journal-World reporter Caitlin Doornbos:
Copyright 2018 The Lawrence Journal-World. All rights reserved. This material may not be published, broadcast, rewritten or redistributed. We strive to uphold our values for every story published.