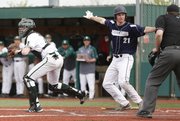 Three summers ago, Lee McMahon's baseball team didn't have a catcher.
The regulars were out of town for a football camp that particular week, and the pitchers had to throw to someone. McMahon had dabbled behind the plate, so he volunteered to fill in until his summer-ball teammates returned.
Now a senior, McMahon has caught every inning for Free State High each of the past two seasons and has started since he was a sophomore. It's funny for him to think about it now, but it really was by chance that he ever got into the trade that he is now known for on the diamond.
"I guess coach (Mike) Hill liked what he saw," McMahon said of what he thought would be a cameo in catcher's gear. "I don't know."
Indeed, Hill saw leadership, toughness and a good arm — all the ingredients to become a successful catcher.
"He's a physically and mentally tough kid," Hill said.
Before converting, McMahon spent most of his time in the outfield or on the mound. It turned out, crouched down in the dirt behind home suited him best.
"It's a really different perspective on the game, getting to see everything from that angle," McMahon said. "It's empowering in a way. I think it's one of the trickiest and labor-intensive positions out there. You've got to always be thinking. As soon as you stop, that's when you get in trouble."
The Firebirds (17-2) have avoided such perils most of the season thanks to their pitching staff and defense. As they wrap up their regular season at 7 tonight against Lawrence High (12-7) at Hoglund Ballpark and prepare for the postseason, McMahon's teammates consider him a vital part of the Sunflower League champions.
Senior pitcher and designated hitter Sam Hearnen said players often turn to McMahon, a captain, for advice.
"Lee's an essential guy on the team," Hearnen said. "If he weren't here, it wouldn't be the same team."
Catching big-time pitchers Cody Kukuk and Colin Toalson in 2011, when McMahon was a sophomore, played a crucial role in his development. Hill said the catcher learned through experience while catching Kukuk, who could throw as hard as 95 mph.
"Cody's a terrific pitcher, but he'd have some bouts of wildness from time to time. Imagine the pressure on Lee to do what he did," Hill said. "He stuck his chin out there and took some hard knocks."
Now when McMahon puts on his prescription Oakleys, pulls down his mask and straps on his gear, every aspect of the game feels natural. He keeps FSHS pitchers calm and on task and makes sure the infielders and outfielders are aligned correctly. He frames pitches so the guys throwing look good and keeps the ball in front of him on a mistake. And pitchers know when a greedy opponent gets on base, McMahon can pop up and gun out anyone thinking about stealing.
There is one other, sometimes overlooked, task: "Probably the most important one is making sure the umpire doesn't get hit," McMahon said of a catcher's best friend. "If he gets hit, you don't want that."
McMahon will walk on at Kansas University after he graduates.
"I'm not a big, giant prospect who's getting 80, 90 percent of their school paid for or anything like that," McMahon said. "I'm just happy. I'm really happy to be where I am in life."
Copyright 2018 The Lawrence Journal-World. All rights reserved. This material may not be published, broadcast, rewritten or redistributed. We strive to uphold our values for every story published.