Photo Gallery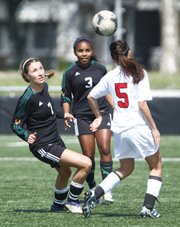 Lawrence High v. Free State soccer
Images from Monday night's game between Lawrence High and Free State.
It took 47 minutes, but Free State High soccer forward Maren Kahler said her team finally got its "mojo back."
The junior's early second-half goal sparked the Firebirds, who knocked in four goals after halftime in a 4-0 victory over Lawrence High on Monday at LHS.
"The first goal really got our momentum going," Kahler said. "We picked our heads up and shook the first half off and got everything going."
Though Free State maintained possession most of the first half, the score remained 0-0 at intermission thanks to solid defense from LHS.
"We were able to shut them down, anticipate the passes," LHS goalkeeper Alex Ewy said. "We contained them really well to force them to mistakes so we could win the ball."
The Lions also were helped by a standout effort from Ewy, who consistently charged forward to slide in and take away Free State scoring opportunities.
"She played really well tonight — probably one of her best games, I think," Mahler said. "She was coming out on every ball and winning almost every ball. We just had to look for the lucky opportunities to score on her."
Kahler was able to break free in the 47th minute, receiving a pass in the box from teammate Allix Ice.
"I turned on the defender and just hit it," Kahler said. "I was just hoping it would go in."
The ball found the right side of the net and also appeared to take some pressure off the Firebirds.
In the 57th minute, Free State's Kaitlin Dunbar shuffled a pass in the box to a wide-open Jessica Ferguson, who ricocheted it off Ewy and into the net.
"There were bits there where we had lapses of concentration," Ewy said. "They found our weakness, and they just passed it through us."
FSHS tacked on two goals in the final five minutes. In the 76th minute, Maddie Dieker delivered a long pass upfield for Rosemary Newsome, who knocked it in from the left side. Then, just 25 seconds later, Free State's Chelsea Casady stepped through a pair of defenders and delivered a right-footed shot into the net for the final goal.
FSHS coach Kelly Barah said he was just happy to come away with a victory in the rivalry match.
"I think we went away from some of the things — especially in the attacking third — that should create more chances for us," Barah said. "We did a little bit more of that in the second half."
LHS (0-12-1) will play at Shawnee Mission West today, while Free State (8-5) will play host to SM Northwest at 6:30 tonight.
Copyright 2018 The Lawrence Journal-World. All rights reserved. This material may not be published, broadcast, rewritten or redistributed. We strive to uphold our values for every story published.