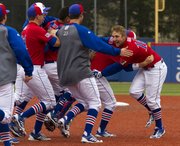 For the third time in three days, the game came down to the final batter. And for the third straight day, the final at-bat went the way of Kansas University's baseball team, which finished off a sweep of Baylor with a 5-4, 10-inning victory Sunday at Hoglund Ballpark.
Connor McKay drove in the game-tying run in the ninth and Jordan Dreiling the winner in the 10th to push the Jayhawks to their second series sweep of the season and back into contention for a berth in an NCAA regional.
"I'll tell you what," KU coach Ritch Price said after his team's latest close call. "I'm glad there's a really young coach in that third-base box and a really young coach in the first-base box, because I'm having a heart attack in the dugout. Those were three of the greatest wins you could have in a season."
Like the two before it, Sunday's series finale was a back-and-forth affair in which both teams had multiple opportunities to nail down the victory.
Baylor led 2-0 after a half inning but managed just two hits during the next seven innings. Meanwhile, the Jayhawks (30-18 overall, 12-9 Big 12) did what they do best, playing small ball and using timely hitting for single runs in the fourth, fifth and seventh innings to take a 3-2 lead into the eighth.
With two outs in the eighth, Price went to closer Jordan Piché for the third straight day, but this time Baylor touched him for a run in the eighth and another in the ninth.
"When you're asking a young man to pitch three days in a row, they don't even do that in the big leagues," Price said. "But there's no question that the reason we're 12-9 in the conference is because he's been the best guy in the country at the back end of games."
Baylor's two late runs gave the Bears a 4-3 lead, but the Jayhawks picked up their closer in the bottom of the ninth with back-to-back doubles from Dakota Smith and McKay. Considering Smith's led off the inning, everyone in the ballpark had to figure Price would call for a sacrifice bunt to move the tying run 90 feet closer. He didn't. And McKay made him look like a genius.
"I haven't really been swinging the bat too well this year," said McKay, who finished 2-for-4 with 2 RBIs. "And I was expecting to bunt, but he gave me the green light, and I just wanted to hit something hard and find a good pitch to hit."
McKay's double pounded off the wall in left-center field and came two feet away from ending the game.
Asked if he thought it was gone off the bat, McKay admitted he did. Asked why he let him swing away, Price explained his strategy.
"That was by design," he said. "We knew we weren't gonna send Piché back out for the next inning, so we were trying to play for two to see if we could win it right there."
After a sacrifice bunt from Ka'iana Eldredge moved McKay to third with one out, the Bears (25-23, 11-9) got out of the inning when Tucker Tharp (2-for-4, 2 doubles) and Justin Protacio flied out.
That set up Dreiling's 10th-inning heroics, which came after fellow Free State High graduate Colin Toalson shut the Bears down in the top of the 10th inning from the mound.
"Our pitching's been phenomenal these last couple weeks," McKay said. "They've really kept us in all these one-run games."
Kevin Kuntz (1-for-5, RBI) grounded out to start the Jayhawks' 10th, and Michael Suiter (1-for-3, RBI) followed by earning a walk. Suiter then stole second — even with Baylor calling for a pitch-out — and went to third base on a fly-out by Alex DeLeon.
Two pitches later, the senior Dreiling delivered, ripping a 2-0 fastball to the gap in right-center for the game-winner.
"One thing that he is is a fastball hitter," Price said of Dreiling, who drove in the game-tying run in the eighth inning Saturday. "That's as good a ball as he's hit all year."
Thanks to West Virginia's victory against Oklahoma, the Mountaineers and Sooners join Kansas State in a three-way tie for first place in the Big 12 at 11-7. The Jayhawks, the only team with 12 conference victories, sit percentage points back at 12-9, with a Tuesday game at Wichita State and next weekend's finale at home against Kansas State ahead on the schedule.
Baylor 200 000 011 0 — 4 6 3
Kansas 000 110 101 1 — 5 10 2
W – Colin Toalson (1-0), L – Josh Michalec (4-4).
2B: Grayson Porter, BU, Jordan Dreiling, KU, Tucker Tharp, KU (2), Dakota Smith, KU, Connor McKay, KU.
KU Highlights: Frank Duncan 6 IP, 2 H, 0 ER, 1 K; Drew Morovick 1.1 IP, 0 H, 1 ER, 0 K; Jordan Piche' 1.1 IP 3 H, 1 ER, 3 K; Toalson 1 IP, 1 H, 0 ER, 1 K; Kevin Kuntz 1-for-5, RBI; Michael Suiter 1-for-3, run, RBI: Dreiling 2-for-4, RBI; Smith 1-for-3, run; Tharp 2-for-4, run, 2 2B; McKay 2-for-4, 2 RBIs.
Copyright 2018 The Lawrence Journal-World. All rights reserved. This material may not be published, broadcast, rewritten or redistributed. We strive to uphold our values for every story published.