Whether it is a hand rail, an outdoor patio chair or a mailbox, refinishing rusty metal is a straightforward project.
Step 1: Use a wire brush or drill attachment to remove loose and flaking rust from the metal to be refinished.
Step 2: Fill any large divots or holes with a metal repair compound. Bondo body filler or PC-7 two-part epoxy are two of the more popular metal repair products on the market.
Thoroughly read the manufacturer's instructions to select the right product for the job. Follow the instructions and allow the appropriate amount of drying time before proceeding.
Step 3: Sand both repaired and unrepaired surfaces with 100 grit aluminum oxide or silicon carbide sandpaper until a desirable measure of smoothness is achieved. Wipe the sanded surface clean with a tack cloth or a rag soaked in mineral spirits.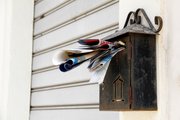 Step 4: Completely remove rust from lightly rusted surfaces by applying a liberal coat of naval jelly. Allow the naval jelly to work for 10-15 minutes and rinse thoroughly with cold water.
Naval jelly is a caustic substance that should be used in a well ventilated area with gloves and protective eye wear. Apply additional coats of naval jelly to remaining rust, rinsing between each coat, until all traces of rust have been removed.
Step 5: For heavily rusted metals, skip the naval jelly and coat all surfaces with a rust neutralizing product such as Loctite brand Extend Rust Neutralizer or Rust-Oleum Rust Reformer. These amazing products encapsulate the rust with a polymer coating that inhibits further deterioration and creates a paintable surface. Apply two coats of neutralizer before painting.
Step 6: For applications where a rust neutralizer is not applied, use a good-quality metal primer to prepare the surface before painting.
Step 7: Finish the project by applying two coats of high-quality enamel paint. Depending on the project, choose a rust inhibiting paint specifically designed to adhere to metal surfaces. These paints are available in a variety of colors and can be sprayed on or brushed on. Sprayed paint applications tend to reduce the appearance of unwanted brush strokes, but brushing on the first coat of paint forces paint into cracks, crevices and divots, creating a more durable protective finish in the long run. Allow the paint to dry for several days before pressing the refinished metal into service.
Copyright 2018 The Lawrence Journal-World. All rights reserved. This material may not be published, broadcast, rewritten or redistributed. We strive to uphold our values for every story published.