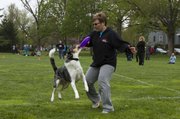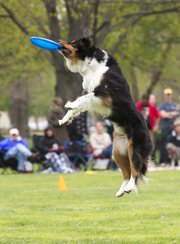 Dogs, as we know, like to fetch. And somewhere along the line, the Frisbee and other flying discs became one of the favorite objects for the canine population to snatch from the skies.
So, it had to be torturous Sunday afternoon in South Park for dogs like Zoey, a 3 year-old boxer-lab mix, as they waited to compete in the annual Skyhoundz Disc Championship.
All those discs flying through the air, just crying out for a dog mouth.
But thanks to city leash laws, a tethered Zoey could only watch until her name was called as the first of 30 competitors. The dogs, of all shapes and sizes, would line up, and have 60 seconds to complete as many successful catches from their owners as possible, scored by distance.
For the past several years, Zoey's owners, Andrew and Jennilyn Keinsley of Lawrence, had sat on the sidelines and watched.
"You could just see she was like 'Oh my God,'" Jennilyn said of her dog's obvious desire to compete. So they trained several times per day. But that was mostly an attempt to burn off Zoey's excess energy, though it rarely worked, Andrew said.
Zoey's big moment came Sunday, as she and Andrew lined up for their turn to compete. Zoey ignored the spectators and zeroed in on Andrew and that disc about to be flung.
It was quickly apparent that Zoey would probably not be moving up from the novice to professional ranks anytime soon. Andrew would blame his throw for that first miss, as the disc sailed low and several yards too far for Zoey. The second one bounced off her face, robbing the crowd of a chance to cheer.
Then it happened. The third throw gave the dog a leaping chance, and she took it. An inch off the ground, maybe, but a leap nonetheless that put Zoey on the scoreboard.
The crowd went wild.
Copyright 2018 The Lawrence Journal-World. All rights reserved. This material may not be published, broadcast, rewritten or redistributed. We strive to uphold our values for every story published.