Photo Gallery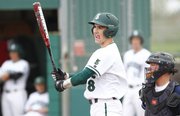 Free State baseball v. Blue Valley North
Images from Wednesday's game against Blue Valley North at Free State High School.
A day after securing the Sunflower League championship, Free State High's baseball players and coaches denied suffering a letdown Wednesday after splitting a nonleague doubleheader at FSHS — a 2-1 loss to Blue Valley North and a 9-1 victory against Kansas City Mo., Pembroke Hill.
"I certainly hope not. This is Kansas. You only get 20 games," Firebirds coach Mike Hill said after his team played its fourth game in three days. "I think we were fatigued, if anything."
BVN ended a four-game Free State win streak, despite getting no-hit by Firebirds senior pitcher Jacob Caldwell for the first five innings.
FSHS junior Zach Bickling's RBI double in the second served as the game's only run before an Anthony Miele error on a grounder by Alex Shartzer to lead off the fifth gave the Mustangs some life. Back-to-back BVN singles followed for Grant Flick and Hunter Kennon to tie the game.
Those were the only hits against Caldwell in a complete-game loss. Matthew McHugh led off the seventh for BVN with his team's first walk, and a fielder's choice and sacrifice bunt moved him to third base.
The Firebirds (16-2) elected to walk the bases loaded with one out, and when Jake Brown hit a grounder to first baseman Dane McCullough, he threw home in an attempt for a force out. However, McHugh slid in safely for the 2-1 advantage.
Senior catcher Lee McMahon said Caldwell's strong outing and the defense behind him should have been enough for a victory.
"We couldn't string some things together in the first game. The energy level was there," McMahon said. "We figured it out in the second game, fortunately."
Pembroke Hill (12-3) took a brief 1-0 lead in the top of the second in the nightcap, but Joel Spain (3-for-3, three RBIs) drove in Cameron Pope, and Caldwell plated Anthony Miele with a bases-loaded walk a half-inning later.
The Firebirds will play host to rival Lawrence at 5 p.m. Monday.
Blue Valley North 000 001 1 — 2 2 3
Free State 010 000 0 — 1 5 1
W — Matthew McHugh. L — Jacob Caldwell (1-1).
2B — Zach Bickling, Free State.
Free State highlights — Caldwell, 7 IP, 2 H, 3 K, 2 BB, 1 ER; Bickling, 1-for-1, RBI; Cooper Karlin, 1-for-2.
Pembroke Hill 010 000 0 — 1 4 4
Free State 021 150 X — 9 13 1
W — Ryan Cantrell (2-1). L — Tyler LaPlante.
3B — Caldwell, Bickling, Free State.
Free State highlights — Cantrell, 6 IP, 4 H, 3 K, BB; Joel Spain, 3-for-3, 3 RBI; Caldwell, 2-for-3, 2 RBI; Anthony Miele, 2-for-3, R; Bickling, 2-for-4, RBI, R; Lee McMahon, 1-for-3, RBI; Sam Hearnen, 1-for-3, R.
Copyright 2018 The Lawrence Journal-World. All rights reserved. This material may not be published, broadcast, rewritten or redistributed. We strive to uphold our values for every story published.