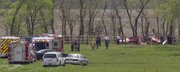 A Lawrence man was taken to Kansas University Hospital with serious injuries after the small aircraft he was piloting crashed in a field in southeast Lawrence Wednesday afternoon.
Witnesses reported the crash about 12:40 p.m., and Lawrence Douglas-County Fire Medical crews found Dennis R. McNish, 60, wounded in the aircraft in a pasture behind a house in the 1600 block of North 1300 Road, said Lt. Keith Hudson, a Kansas Highway Patrol spokesman.
The two-seat, fixed wing ultralight aircraft was badly damaged, and McNish was in serious condition, Hudson said.
McNish was attempting to take off from the pasture behind his house, and did get into the air for a moment, Hudson said, before crashing into a treeline and fence on the property. He often used the pasture behind his home as an airstrip, and others in the area also operate similar small aircraft.
The highway patrol will continue to investigate with the Douglas County Sheriff's Office, Hudson said. Troopers planned to meet with Federal Aviation Administration officials Thursday.
Copyright 2018 The Lawrence Journal-World. All rights reserved. This material may not be published, broadcast, rewritten or redistributed. We strive to uphold our values for every story published.