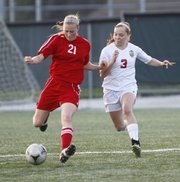 Addison Campbell scored a second-half goal for Lawrence High, but the Lions' girls soccer team fell to Shawnee Mission North, 2-1, on Tuesday at LHS.
Sadie Keller assisted on Campbell's goal, which came with about 20 minutes remaining and cut North's lead to 2-1. North led 2-0 at halftime.
The Lions (0-11-1) will play Thursday at home against Free State.
Copyright 2018 The Lawrence Journal-World. All rights reserved. This material may not be published, broadcast, rewritten or redistributed. We strive to uphold our values for every story published.