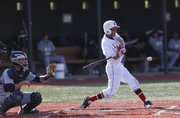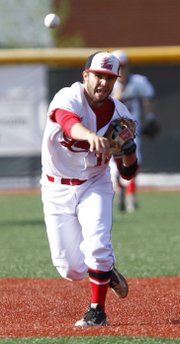 It just got a whole lot tougher for Drew Green's teammates to tease him about being slow.
The Lawrence High catcher's legs were on full display Tuesday, as he sprinted to three triples in the Lions' 15-1 run-rule victory over Olathe East at LHS.
"I've been playing with that kid since we were 8 years old, and it doesn't surprise me at all," LHS pitcher C.J. Stuever said. "Maybe that he made it to third base three times (was surprising), but he's putting up all-state numbers."
After a head-first slide into third on his final triple in the fourth inning, Green said coach Brad Stoll asked him if he'd ever had three triples in a game in his life.
Green said no, joking that he usually stays on second because he gets tired coming around first.
"I was laughing at him, because it's Drew Green," Stoll said, "so I know that he's just going to brag all day tomorrow to me about the fact he hit three triples."
Green wasn't the only Lion that produced offensively.
After a pregame talk from Stoll that challenged his players to put together better at-bats — LHS had only four hits in its 3-2 Saturday loss against Rockhurst — the Lions responded with 15 hits in the run-rule-shortened game.
"I think we were more aggressive early in counts, because we knew they were going to attack with the fastball," Green said. "We saw it over and over again. We were putting good swings on it."
Olathe East starter James Perdue lasted just 1 2/3 innings, allowing eight runs and eight hits.
"When you're hitting the ball hard the other way, you know the kids are feeling really good about themselves," Stoll said. "That was really nice to see."
Stuever added a dominant effort on the mound. In a complete-game performance, the finesse righty allowed just three hits while racking up five strikeouts.
The 5-foot-9, 150-pound senior was especially effective pitching inside with his two-seam fastball, jamming a lot of East batters, which resulted in weak grounders.
"I think the wind helps him, because he has a nice little tail on his ball," Green said. "He was firing it up there. A few of them were hard to catch and had a lot of run."
Green led LHS's offense, going 3-for-4 with three runs and four RBIs. Michael Sinks added a 3-for-3 effort, while Jacob Seratte contributed a pair of doubles.
East (5-9, 3-5) didn't do much to help out its pitchers, committing seven errors and misplaying a couple other flies in the outfield that went for hits.
Because of expected rain and cold later in the week, LHS (11-6, 7-2) will play host to Shawnee Mission North at 5:30 p.m. today. Originally, the game was scheduled to be played Thursday.
Olathe East 010 00X X — 1 3 7
Lawrence 440 7XX X — 15 15 1
W — C.J. Stuever, 2-0. L — James Perdue.
2B — Jacob Seratte 2, LHS; C.J. Stuever, LHS. 3B — Drew Green 3, LHS. HR — Adam Thies, OE.
LHS highlights — Drew Green 3-for-4, 3 3B, 3R, 4 RBIs; C.J. Stuever CG, 3 H, ER, 0BB, 5K pitching, 2-for-3, SB, 2R batting; Michael Sinks 3-for-3, 2R, 2 RBIs; Jacob Seratte 2-for-3, 2 2B, R, 2 RBIs.
Copyright 2018 The Lawrence Journal-World. All rights reserved. This material may not be published, broadcast, rewritten or redistributed. We strive to uphold our values for every story published.