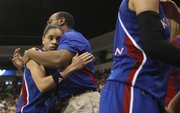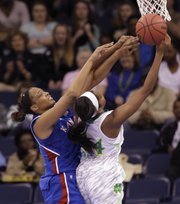 Related document

Norfolk, Va. — Missed jump shot. Turnover. Another Kansas University miss. Another.
Nine times up and down the court, each trip empty.
And each time Sunday, at the other end of the Ted Constant Center floor, Notre Dame's Skylar Diggins took another piece out of the Jayhawks.
That's how a four-point lead turned into an eight-point deficit en route to a 93-63 loss to the Fighting Irish that finished Kansas' season the way it ended last year: in the Sweet 16 of the NCAA women's basketball tournament.
Diggins led all scorers with 27 points, one more than she needed to set the Notre Dame school career record of 2,323. That was accomplished with an eight-foot jump shot with 7:48 to play in a game that was, by then, academic.
"She's what everyone says she is," said Jayhawk point guard Angel Goodrich, who was charged with guarding Diggins much of the afternoon. "She's the whole package. She creates for herself and her teammates."
Diggins added nine assists and had just one turnover.
Carolyn Davis led Kansas (20-14) with 25 points in her last college game.
After rolling to a 15-11 lead, Kansas suddenly became tentative and stayed that way.
"We let them play comfortable and confident," KU coach Bonnie Henrickson said. "I'm sure they came in confident. We didn't put enough pressure on the ball. We weren't disruptive enough."
Added Goodrich: "We let them punch, and we didn't punch back."
Goodrich was particularly hard on herself after her last college game. She finished with seven points, seven under her average, but added 13 assists, tying a season high.
"I'm very disappointed in myself," she said. "I thought I would come out strong, but didn't."
The damage wasn't completely self-inflicted. Just before its 12-0 run, Notre Dame switched some defensive match-ups and put 6-foot-1 Ariel Braker on 6-3 Davis "to try to get a little more length on her," ND coach Muffet McGraw said. "We also talked about we've got to sag in a little bit more on her."
Said Diggins: "We really just tightened down on defense. We wanted to string together a series of stops."
Nine in a row, as it turned out, en route to a runaway.
The Irish also made Goodrich a point of emphasis, noting her importance to the Kansas offense.
"I was trying to push her left," Diggins said. "I noticed that she wasn't hitting her perimeter shots when I pushed her left. She only went to the basket three or four times. I tried the get the ball out of her hands."
Diggins finished the first half with back-to-back three-point baskets in helping Notre Dame (34-1) establish a 40-27 lead. Kayla McBride scored nine of her 13 points in a 20-9 Irish run to open a second half in which Kansas vowed to come out more aggressively.
From there, it became a countdown to Notre Dame's regional final game, Tuesday against Duke, a 53-45 winner over Nebraska in Sunday's other game in Norfolk. The Irish will be seeking their 30th straight victory.
Diggins' record-setting shot was the result of some bench accounting. Coming out of a timeout with about eight minutes to play, "I had forgotten all about it," McGraw said. "I was looking to sub her out coming out of that timeout."
A check with a Notre Dame sports-information official indicated that Diggins needed only two more points.
"I told her, 'You're coming out in 30 seconds, so you might as well get two more,'" McGraw said.
Diggins left eight seconds after her shot made it 79-50.
From there, it became a case of the Jayhawks salvaging what they could, with three seniors — Goodrich, Davis and Monica Engelman — trying to go out as best they could, while everybody else looked to the future.
The end was "bittersweet," said Engelman, who finished with 10 points. "I was grateful to have had this opportunity to play at Kansas, and I think we left this program better than it was when we came in."
Added Davis: "When we came in, all this program knew was (National Invitational Tournament), and we upped the level of play. I think this is going to set the bar higher for incoming freshmen."
Henrickson said that there were five of those on the horizon and welcomed the challenge spawned by two years of success in the NCAA Tournament.
"That's exciting," she said. "I'd rather have the bar set higher, to have greater expectations and try to meet them again versus struggle, struggle, struggle and never have a chance to meet them. They've had a taste of it and can help those young kids understand what it takes to be successful."
What it takes, she added, was "not to do different things, but to do things differently."
Notre Dame taught the Jayhawks that lesson Sunday.
Copyright 2018 The Lawrence Journal-World. All rights reserved. This material may not be published, broadcast, rewritten or redistributed. We strive to uphold our values for every story published.