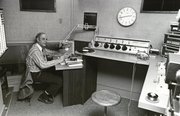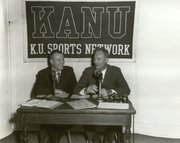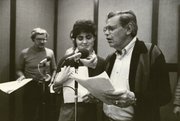 Celebrate KPR
Kansas Public Radio is celebrating its 60th anniversary with events throughout the year. Upcoming events include:
• May 10: Cinema a Go-Go, a night full of strange movie flicks hosted by KPR's "Retro Cocktail Hour," at Liberty Hall, 644 Massachusetts St.
• May 11: KPR hosts Brother Sun as part of its concert series
Check kansaspublicradio.org/60th-anniversary for more news about upcoming events.
At 1:45 p.m. on Sept. 15, 1952, KANU, the Lawrence-based flagship station of Kansas Public Radio, went on air for the first time. Sixty years later, the KANU signal continues to broadcast at 91.5 FM, and Kansas Public Radio has extended its coverage with translators (broadcast transmitters that repeat the signal) in Atchison, Emporia, Manhattan, Junction City and Chanute.
Kansas Public Radio is celebrating its 60th anniversary with events throughout the year. Phil Wilke, KPR's media manager, says 60 years of broadcasting is a testament to the quality of programming that KPR produces and the need to have that programming out there.
"There are not a lot of stations on the air anymore that will do classical, jazz and folk music. So, we are one of the last bastions of that," Wilke says. "And there's obviously an audience for it, because we've been playing it for 60 years and the audience has been coming back to us day in and day out for 60 years. It's also a real compliment to our audience that they like what we're doing and are willing to support us financially."
Wilke says KPR has depended upon community support from the beginning. In 1949, the Harris family — of the Harris newspaper chain, Harris Enterprises — donated FM radio equipment from a failed radio venture to Kansas University's William Allen White School of Journalism and Mass Communications. KU applied for and was granted a broadcasting license that same year.
In the beginning, all of KANU's funding came from KU, says Janet Campbell, KPR's general manager. She says that now about 70 percent of KPR's funding is from private donations, through fund drives and underwriting. The other 30 percent is gleaned from KU, she says.
In its early years, most of the KANU budget was used to purchase classical music, Campbell says. In addition, former KANU General Manager Dick Wright made an effort to beef up the station's dedication to jazz.
"The original charge was that they were going to play good music," Campbell says.
The station became committed to news in the 1970s, about the same time it became an affiliate of NPR. Campbell says the largest three parts of programming are now news, jazz and classical music.
... from small beginnings
Like its programming, KPR's original facilities were modest. In 1952, KANU took up residence in "the Mud Hut," now Marvin Studios, 1400 Hoch Auditoria Drive. The building's nickname was a result of its 1942 construction from compressed earth and concrete bricks.
"It was woefully small," Campbell says of the facilities. "The state architect strongly recommended that we find a new building."
In 2003, KPR moved to its current 9,000-square-foot facility at 1120 W. 11th St. "All Things Considered" host Laura Lorson was the first voice broadcast from the new digs.
KPR has continued to broadcast through fires (at the Mud Hut), transmitter vandalism and even the death of one of its live performers. As a KPR student engineer, Bill Kurtis, the television journalist and news anchor, was assisting in production of a remote organ recital in Hoch Auditorium. About five minutes into the performance, the organ player collapsed on the keys and died. Campbell says the station quickly put on a long-playing symphony, the same action it took when the building was evacuated because of a fire some years later.
KPR employees are not the only ones dedicated to the station. David Vance, of Lawrence, began listening to KPR as an architecture student at KU in 1992. At that time, the station was still located in the Mud Hut, which was directly to the south of the architecture department. Vance found his way inside and continues to return to volunteer every year for the membership drive.
One year while volunteering, Vance received a call from an older woman who wanted to financially contribute to the station.
"She made a fairly modest donation, but her comment was that the radio station was really a companion for her," Vance says. "She was kind of homebound and it was something that she really counted on to be there for her through her day."
Lisa Hallberg has listened to KPR for as long as she has lived in Lawrence, about 17 years. Her favorite program is Trailmix, a locally hosted bluegrass and folk music show that airs on Sundays. Hallberg, who also volunteers during the station's fund drives, says volunteering has made her realize how much something very meaningful to her personally — which she listens to alone in her car and at home — means to the community as a whole.
"Actually sitting there and answering the phone calls during the membership drives gives you a chance to realize all the other people out there who are also listening to the station."
Copyright 2018 The Lawrence Journal-World. All rights reserved. This material may not be published, broadcast, rewritten or redistributed. We strive to uphold our values for every story published.