Eighth-ranked Texas completed a resounding sweep of the Kansas University softball team on Friday at Arrocha Ballpark.
Kansas (21-10 overall, 0-3 Big 12) totalled just nine hits in three games against the Longhorns (32-4, 5-0), who defeated the Jayhawks, 16-4 and 5-4 on Friday.
Photo Gallery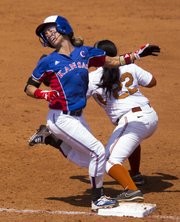 Kansas Softball vs. Texas
Fresh off a 5-0 defeat on Thursday, KU built an early 3-0 advantage in the first game of the doubleheader and led Texas, 3-2, through five innings. But in the sixth inning, an offensive explosion by the Longhorns — 19 batters, 10 hits and 14 runs, including a home run and grand slam — slammed the door on the Jayhawks' hopes for an upset.
Senior left fielder Maggie Hull, who led KU with a double and three RBIs off 2-for-3 batting, added one final score for the Jayhawks. Sophomore Alicia Pille (11⁄3 innings, four runs, three hits, three walks) took the loss.
In the second game, with Texas already leading 2-0, Hull started Kansas off with a single and was followed by freshman designated player Alex Hugo, who blasted a home run to tie the score at 2-2 after one inning. Those two hits were KU's last of the day, however, as Texas senior Blaire Luna (17-1) struck out nine in a complete-game victory. The Jayhawks scored twice more after two errors and a walk loaded the bases in the fifth innings. Sophomore catcher Maddie Stein grounded out for one run and senior first baseman Mariah Montgomery drew one of KU's seven walks on Luna to cut the game to 5-4. With KU threatening on third and first in the bottom of the seventh, Luna held on for the victory.
"It was a good game, we just came up a little bit short," Kansas coach Megan Smith said. "Our team saw that they competed with Texas today and they needed to see that. Aside from one horrible inning today, we competed with them both games."
Pille (7-6) also took the loss in Game 2, allowing three runs on four hits in four innings.
The Jayhawks begin a three-game series with Texas Tech on April 5 in Lubbock, Texas.
Game 1: Texas 16, KU 4
Texas 000 20(14) — 16 15 1
Kansas 120 00 1 — 4 5 0
W — Holly Kern, 6-3. L — Alicia Pille, 7-5. SV — None.
2B — Mandy Ogle, Texas; Erin Shireman, Texas; Maggie Hull, Kansas. HR — Taylor Hoagland, Texas; Taylor Thom, Texas.
Kansas highlights — Maggie Hull 2-for-3, 2B, 3 RBIs; Chaley Brickey 1-for-1, 2 R, 2 BB.
Game 2: Texas 5, KU 4
Texas 200 120 0 — 5 8 2
Kansas 200 020 0 — 4 2 0
W — Blaire Luna, 17-1. L — Alicia Pille, 7-6. SV — None.
2B — Marlee Gabaldon, Texas. HR — Alex Hugo, Kansas.
Kansas highlights — Alex Hugo 1-for-3, HR, 2 RBIs, 1 R; Maggie Hull 1-for-3, 2 R
Copyright 2018 The Lawrence Journal-World. All rights reserved. This material may not be published, broadcast, rewritten or redistributed. We strive to uphold our values for every story published.