When Blue Valley North generated two extra-base hits in the top of the first inning off of Lawrence High starting pitcher Adam Rea, it seemed as if the Lions might be in for a long afternoon on the baseball diamond.
Photo Gallery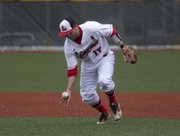 Lawrence High baseball vs. Blue Valley North
The one run Rea yielded to the defending Class 6A state champions to open the game, however, proved to be all the Mustangs could scrape together in a fast-paced, 6-1 Lawrence victory that lasted all of an hour and 22 minutes.
Nick Accurso tripled and scored on an RBI groundout for BVN (0-1), and Jake Harvey doubled on a bloop that diving LHS center fielder Kieran Severa nearly kept from dropping to the turf, but Rea got out of the inning otherwise unscathed.
From that point on, BVN didn't get a runner past second base. A senior right-hander, Rea improved to 2-0 after allowing just four hits and two walks in six innings.
"It all starts on the defensive end," Rea said. "If we keep up a good pace in the game, it transfers to the offensive (side). That's what we did throughout the whole game."
Lions coach Brad Stoll said Rea set the tone.
"It's all kind of related to how fast the game goes when your starting pitcher just throws strikes and works fast," Stoll said after LHS improved to 4-0. "To his credit, he did a wonderful job today just pounding the zone and working fast. That's fun to play defense behind."
The Lions made sure the game turned out enjoyable by responding to an early 1-0 hole by scoring four runs in the bottom of the first.
Senior Shane Willoughby, who went 3-for-3 with a double and a triple, said Lawrence piled on early because senior CJ Stuever led off by ripping a single to right field.
"That gave us all confidence," Willoughby said, "to step up there and put a good swing on the ball."
Severa followed Stuever with a walk, and Willoughby drove them both home by pounding a triple to the right-field gap, giving LHS a 2-1 lead.
Junior Drew Green then scored Willoughby by popping a single to shallow left field. After sophomore Michael Sinks kept the Lions rolling with a single to right, junior Jacob Seratte knocked in Green, even though he hit into a double play.
"We're all about hard contact," Willoughby said. "(The LHS coaches) don't preach getting hits, they just preach hitting the ball hard. Today they fell, so that was nice."
Willoughby drilled another hit to a gap in the third inning, coming up with a double to left, and gave LHS a 5-1 lead after moving to third on a passed ball before Green delivered an RBI sacrifice fly.
"He's got such electric hands," Stoll said of Willoughby. "I'm sure right now it looks like a beach ball for him. Hopefully it continues to look like a beach ball."
The Lions increased their lead to 6-1 in the fifth after a Severa base hit drove in Stuever (2-for-3), who led off with a triple.
Twice after the first inning, BVN put two runners on base — in the second and fourth. Both times, shortstop Willoughby and second baseman Sinks turned inning-ending double plays.
Said a grateful Rea: "That game I relied on my defense a lot. They bailed me out quite a few times. They did their job, I did my job. All around, it was just a good game for our whole team."
LHS will play at Shawnee Mission Northwest on Monday.
Blue Valley North 100 000 0 — 1 5 0
Lawrence 401 010 X — 6 9 1
W — Adam Rea, 2-0. L — Matthew McHugh.
2B — Jake Harvey, BV North; Shane Willoughby, Lawrence. 3B — Nick Accurso, BV North; Willoughby, Lawrence; CJ Stuever, Lawrence.
Lawrence highlights — Rea, 6 IP, 4 H, 2 BBs, 2 Ks, 1 ER; Willoughby, 3-3, 2 RBI, 2 Rs; Stuever, 2-3, SB, 2 Rs; Kieran Severa 1-2, SB, RBI; Drew Green, 1-2, 2 RBI.
Copyright 2018 The Lawrence Journal-World. All rights reserved. This material may not be published, broadcast, rewritten or redistributed. We strive to uphold our values for every story published.