In her first at-bat of the season, Free State softball cleanup hitter Whitney Rothwell was ready for the outside pitch — her specialty — after teammates gave her the early scouting report on Shawnee Mission South starter Abby King.
It never came.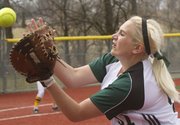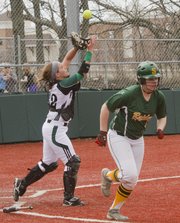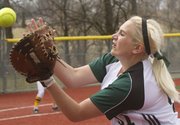 "She actually threw it, and it was right down the middle," Rothwell said with a smile. "I didn't even feel like I swung all the way through it, but it just went."
Rothwell took King's pitch deep to the opposite field, knocking it over the right-field wall for a three-run home run that started the Firebirds' offense in 11-2 and 14-4 victories over Shawnee Mission South on Saturday afternoon.
"It was a good day for us overall," FSHS coach Lee Ice said. "It kind of gave us a gauge of where we're at."
Free State, which had 19 practices before playing its first game, was most impressive offensively.
The Firebirds scored at least one run in each inning of Saturday's doubleheader. FSHS also combined for 25 hits, and that was without last year's leading hitter Courtney Parker, who should return in a few weeks after tearing a labrum in the offseason.
"Offensively, I like what our pieces are," Ice said. "We've got some kids that can run a little bit. We've got some kids in the middle that can swing it and hit them in. Probably the weakest part of our game today was defensively, and that's going to get better."
Rothwell paced FSHS on offense, reaching base safely in her first seven plate appearances. She was 4-for-4 in the first game with four RBIs and three runs scored, coming up a double short of the cycle.
"She had a great day," Ice said. "That's what she's capable of doing, and that's what we've got to expect out of her in the middle of the lineup."
FSHS also received nice contributions from its speedsters.
That included sophomore outfielder Kylie Cobb in Game 2, as the slap hitter went 3-for-3 with three infield singles and three runs scored.
"I like being in the nine-hole because it's three slappers in a row," Cobb said. "My goal is just to get the ball down and get on first every time."
FSHS's Emily Bermel added three hits — including a double — in Game 1, while leadoff hitter A'Liyah Rogers contributed three hits and three runs in the nightcap.
The Firebirds (2-0) will play at Olathe South — last year's 6A runner-up — at 4:15 p.m. Tuesday.
Game 1: FSHS 11, SM South 2
SMS 002 000 0 — 2 4 2
Free State 321 113 X — 11 13 3
W — Meredith Morris. L — Abby King.
2B — Emily Bermel, FSHS; Emily Byers, FSHS; Remington Samuels, FSHS. 3B — Hannah Sears, SMS; Whitney Rothwell, FSHS. HR — Whitney Rothwell, FSHS. SF — Paige Corcoran, FSHS; SB — Emily Bermel, FSHS; Meredith Morris, FSHS.
Game 2: FSHS 14, SM South 4 (4 1/2 innings)
SMS 220 00X — 4 8 4
Free State 244 4XX — 14 12 1
W — Kaley Delg. L — Katlyn Schiefen.
2B — Justice Scales, SMS; Emily Byers, FSHS; Meredith Morris, FSHS. SH — Emily Bermel, FSHS. SF — Emily Byers, FSHS; SB — Hannah Sears, SMS; Emily Bermel, FSHS.
Copyright 2018 The Lawrence Journal-World. All rights reserved. This material may not be published, broadcast, rewritten or redistributed. We strive to uphold our values for every story published.