Photo Gallery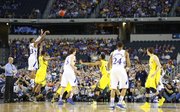 Kansas basketball v. Michigan NCAA (Sweet 16)
Images from Friday night's game against Michigan at Cowboys Stadium in Arlington, Texas.
Press Conferences & Post-Game Interviews
KU coach Bill Self talks after loss to Michigan
Kansas coach Bill Self talks after his team's 87-85 overtime loss to Michigan on March 29, 2013.
Press Conferences & Post-Game Interviews
Travis Releford, Jeff Withey
Kansas seniors Travis Releford and Jeff Withey talk briefly on the podium following the Jayhawks' 87-85 overtime loss to Michigan on March 29, 2013.
Press Conferences & Post-Game Interviews
Michigan coach John Beilein, Trey Burke, Mitch McGary and Tim Hardaway Jr.
Michigan coach John Beilein and playersTrey Burke, Mitch McGary and Tim Hardaway Jr. talk to reporters following the Wolverines' 87-85 overtime victory over Kansas on March 29, 2013.
Arlington, Texas — Credit Michigan assistant coach LaVall Jordan for at least part of Michigan's surprising, come-from-behind 87-85 overtime victory against top-seeded Kansas University on Friday night at Cowboys Stadium.
See, it was Jordan, who said the final few words to Michigan point guard Trey Burke in the locker room at halftime, words that inspired a 23-point explosion from the sophomore whom the Jayhawks held scoreless during the first 20 minutes.
"I think (Kansas) did a really good job of keeping me out of the paint (in the first half)," Burke said. "We knew that they were really good defensively, but my job was just to knock down open shots and get everyone else involved. I understand that this team is best when we're all flowing offensively. Coach Jordan just told me to be a little bit more aggressive."
Aggressive did not begin to explain it. Burke caught fire down the stretch, helping the Wolverines (29-7) pull even in the final seconds after trailing by 14 inside of seven minutes and by as many as 10 at the 2:52 mark of the second half.
Burke's heroics may not have mattered had KU (31-6) sealed the deal at the free-throw line, but a late miss by Elijah Johnson left the door cracked, and Burke kicked the Maize and Blue through it.
"When Elijah Johnson missed the front end of the one-and-one, I knew we still had a chance," Burke said. "Coach called a play for me, but it was really to try to get into the paint and get a quick layup. Then I (saw) that they were gonna switch, and I knew we really didn't have a lot of time to get a two and foul and go through all that. And I just hit the shot, really. I stepped back, got some separation and hit the shot. We were all very happy, but there were four seconds left and I just tried to calm everybody down and let 'em know that this game wasn't over."
Burke's game-tying, 27-foot three-pointer with four seconds to play figures to live in Michigan basketball lore for decades. And he was happy to talk more about it after Friday's victory.
"We fought so hard to come back, it really didn't matter how far the shot was," he said. "It was either all or nothing. The season flashed before our eyes those last two or three minutes. I had a lot of faith in that shot and it went in."
Michigan freshman Mitch McGary, who led all scorers with 25 points, played a big part in freeing Burke for the long-range bomb. An overjoyed McGary shared his unique view of the shot with the media after the win.
"I was actually setting a screen," McGary began. "I was on my back and I turn around and run to try to get an offensive rebound when the shot went in."
Michigan coach John Beilein said Friday's victory was like many that came before it this season.
"I think everybody that watched this game tonight saw what we've been coaching all year," he said. "It's a bunch of young men that have high character, they play to win, they play together and they've been persistent all year long. ... I'm proud of them because they deserve this. I feel bad for Kansas. They really have a good team. But the ball bounced our way down the last few minutes, and we keep on playing."
Copyright 2018 The Lawrence Journal-World. All rights reserved. This material may not be published, broadcast, rewritten or redistributed. We strive to uphold our values for every story published.