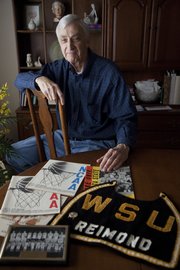 Anybody who ranks Wichita State's run to the Sweet 16 as even close to the biggest shocker in the school's basketball history isn't familiar with Shockers history.
In 1965, Wichita State made it all the way to the Final Four with a 32-year-old rookie coach and with its two future NBA players ineligible to participate.
Coach Ralph Miller, who had played college basketball at Kansas University for Phog Allen, left Wichita State after the 1964 season for Iowa, where he would coach, among others, former Kansas athletic director Lew Perkins. Miller's assistant Gary Thompson was promoted to head coach, and the Shockers ascended to the No. 1 ranking in the first semester of Thompson's first season.
Nobody expected that to last because All-American forward Dave Stallworth's eligibility expired at the semester. Wichita State's momentum took another blow when, in late January, 6-foot-10 senior center Nate Bowman was declared academically ineligible. Without the two Texans who were reserves on the New York Knicks' 1970 NBA champions, the Shockers didn't start a player taller than 6-5. Not only that, all five starters were native Kansans.
Jerry Reimond, a Lawrence resident since "1978 or '79," and a reserve on Wichita State's lone Final Four team, noted that Jamie Thompson and Kelly Pete played for Wichita East, John Criss for Wichita Southeast. Dave Leach came to WSU from McPherson, Vern Smith from Newton.
Despite 36 points from Jamie Thompson, Wichita State lost to UCLA, 108-89, in the national semifinal in Portland, Ore. Gail Goodrich led the Bruins with 28 points.
"When you stepped on the floor that night, to use a term that's probably a little overused now, it was so electric, so loud," said Reimond, a municipal bond salesman. "It seemed like everything was brighter, sharper. There was electricity in the air. Everybody was up."
The box score reveals Reimond missed the only shot he took and grabbed one rebound.
In a preliminary to the national-title game in which UCLA defeated a Michigan team led by All-American Cazzie Russell, Wichita State played Princeton, led by Rhodes Scholar, All-American and future New York Knicks forward and U.S. Senator from New Jersey Bill Bradley.
"We were devastated after the loss to UCLA, and I guess we folded our tents emotionally," Reimond said. "We got it handed to us in the second game, and Bradley set a record against us. Quite a record. He was phenomenal."
Bradley scored 58 points, made 22 of 29 field goals, 14 of 15 free throws, grabbed 17 rebounds and totaled four assists. Bradley, who outscored Reimond by 58 points in that game, averaged 35.4 points in Princeton's five NCAA Tournament games.
The closest Wichita State has come to returning to the Final Four came in 1981, when the Shockers made it to the Elite Eight when Cliff Levingston, Antoine Carr and Randy Smithson combined for 50 points to lead the Shockers to a 66-65 victory against Kansas, led by Darnell Valentine's 21 points.
LSU topped Wichita State, 96-85, to deny the Shockers a return trip to the Final Four.
Wichita State, a No. 9 seed in the West, will advance to its first Elite Eight in 32 years if it can defeat No. 13 seed La Salle today (9:17 p.m. Central time scheduled tipoff) in Los Angeles.
Reimond has developed into a Kansas basketball fan from living in Lawrence for more than 30 years and remains a supporter of his alma mater as well. He has watched the Shockers' tourney victories against Pittsburgh, 73-55, and top-seeded Gonzaga, 76-70.
"Two things impress me about the way they play," Reimond said of the Shockers. "They play a very tough, tough defense. They all play kind of like (Travis) Releford. They're in your face, and they're continuously trying to get the ball. They do get their steals. The other thing is, I don't know what their numbers are, but they look to be a proficient three-point shooting team."
The Shockers routed Pittsburgh despite making just two of 20 three-pointers, but could not have knocked off the Zags without hot long-range shooting. Wichita State made 14 of 28 threes to score that upset.
Kansas and Wichita State are on opposite sides of the bracket. It's conceivable they could meet in the national-title game, even without anybody passing a law requiring such a game.
"I thought of it and just dismissed it, told myself, 'Don't go there,'" Reimond said.
His wife, Linda, pointed out the possibility as well, prompting him to say, "Just let it go. We'll see what happens."
For which team would Reimond root?
"That would be tough," he said. "I'm not ducking your question. When you follow a ballclub as long as we've followed KU — we're very fortunate to have had Larry Brown, Roy Williams and Bill Self coaching here — it would be tough for me to pick a side. I'd probably root for both teams."
He hopes to experience that dilemma Monday, April 8.
Copyright 2018 The Lawrence Journal-World. All rights reserved. This material may not be published, broadcast, rewritten or redistributed. We strive to uphold our values for every story published.