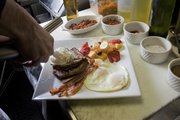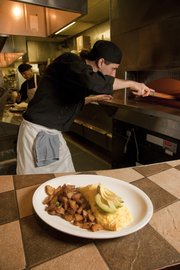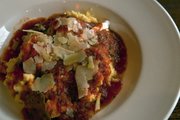 If any time of day brings out somebody's inner zombie, Matt Hyde has observed, it's the morning.
"People in the morning are so habitual," said Hyde, co-owner and general manager at 715 restaurant. "The way they get ready, where they get their paper, where they get their coffee."
Not to mention what — and where — they eat.
A handful of downtown Lawrence restaurants that are better known for their lunch, dinner and even live music scenes have started dabbling in breakfast.
Especially with popular breakfast-specific restaurants nearby, it's a tough meal to break into. But each hopes unique menu items paired with the usual morning favorites will get more people in the door.
715, 715 Massachusetts St., opens at 11 a.m. weekdays but starts cooking at 9 a.m. Saturdays and Sundays, offering a breakfast and brunch menu until 3 p.m.
Hyde says the restaurant started the weekend brunch about two years ago, and that consistency and a variety of offerings — down-home dishes like chicken-fried steak plus more upscale ones like smoked trout Benedict, for example — have helped 715's morning meal take off.
"Lunch and dinner? They mix it up a little bit," Hyde said. "For breakfast? Man, if you want to get your foot in the door with that meal you just have to be really open-minded and really patient."
"It didn't happen for us overnight."
Testing the morning waters
Five Bar and Tables, 947 Massachusetts St., is known for live jazz, playing host to bands three nights a week and staying open until 2 a.m. on weekends. The scene changes on weekend mornings, when Five Bar opens at 8 a.m. for breakfast.
Owner Nick Wysong, who also owns Ingredient next door, said Ingredient used to serve breakfast, but it wasn't a great fit for the order-at-the-counter restaurant and never built the clientele he hoped.
Five Bar, a sit-down restaurant connected to Ingredient, started serving weekend breakfast in October, coincidentally a few weeks before Milton's announced plans to close.
Wysong said Five Bar's breakfast hasn't had a "super strong" reception, but they do have regulars, and recent downtown parades have made for some especially busy mornings.
"It's my favorite meal of the day," Wysong said. "We're having fun if nothing else."
Milton's closing across the street spurred Genovese, 941 Massachusetts St., to expand its breakfast service, owner Subarna Bhattachan said.
Genovese has been serving breakfast on weekends for a couple of years and recently added Thursday and Friday, all beginning at 8 a.m. Bhattachan said weekends remain busier than weekdays but that he's planning to stick with the Thursday and Friday breakfast service and see how it does.
"You have to give it some time to get the word out," he said.
Mexican restaurant Cielito Lindo, 815 New Hampshire St., is now serving breakfast, too, although they've cut back from every day to Thursday through Sunday.
Cielito Lindo starts bright and early, at 7 a.m. Owner Dionicio Perez said he had customers suggest serving breakfast and decided to give it a try.
715 served breakfast daily for a while but found it overwhelming, Hyde said. They focused on weekends instead and found a niche.
"It's important for us to have people come in not just on anniversaries or birthdays or special occasions," Hyde said. "Brunch provides a less expensive way to have the experience that we're passionate about creating for people."
What's for breakfast?
Cielito Lindo's breakfast menu has lots of American favorites — think biscuits and gravy, French toast and omelets — plus dishes with south-of-the-border flare, like a breakfast burrito and scrambled eggs with chorizo.
One of Genovese's most popular breakfast items is a traditional, rustic Italian dish of poached eggs over mascarpone soft polenta, topped with marinara sauce and shaved Parmesan cheese. The restaurant also routinely runs specials of French toast made with sweet bread like banana or carrot.
Capitalizing on its bar status, Five Bar and Tables this month added a bloody mary bar complete with more than 40 ingredients and nine kinds of vodka, Wysong said.
To eat, Five Bar's options range from sensible — steel-cut oatmeal with your choice of toppings (though in addition to fresh fruit and nuts, options include decidedly less sensible chocolate chips and whipped cream) — to dessert-level decadent — angel food French toast.
715's European-inspired breakfast menu is meat-centric and contains "a tremendous amount of hangover food," Hyde said.
Hyde's favorite entrees include the three-meat special and pastrami hash, a frequent special.
Despite tempting gourmet creations, there are still a lot of diners who go for the usual.
"Breakfast seems to be a thing that is basically what people like normally," Bhattachan said. "Toast, eggs, either sausage or bacon, and potatoes."
After all, zombies need to eat, too.
Copyright 2018 The Lawrence Journal-World. All rights reserved. This material may not be published, broadcast, rewritten or redistributed. We strive to uphold our values for every story published.