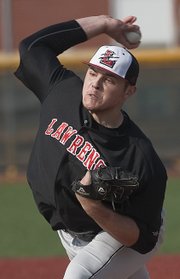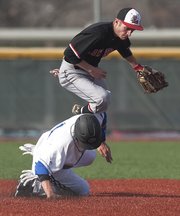 For more than four innings Thursday afternoon at Lawrence High, the Lions' baseball team couldn't crack Olathe Northwest starting pitcher Nate Westfahl.
The senior left-hander had given up a pair of hits to LHS sophomore Michael Sinks in the second and fourth innings, but he retired eight straight batters between Sinks' singles.
Finally, in the top of the fifth, the Lions (visitors on the scoreboard because the game was moved from Olathe due to poor field conditions) pounced with a three-run inning when Westfahl slowed, and hung on for a 4-2 victory.
Westfahl had Lawrence (3-0) down to its final out in the fifth, with one runner (Parker Kirkpatrick) on base before CJ Stuever, Kieran Severa and Shane Willoughby drew three straight walks to tie the game at 1.
Shane Hummel relieved the ONW starter at that point, and Lawrence junior catcher Drew Green, who finished with three RBIs, gave the Lions a 3-1 lead with a two-run single to center field.
"We kept plugging away," LHS coach Brad Stoll said, "and, sure enough, we broke it open once we took advantage of some free bases."
The Lions will play host to Blue Valley North at 1 p.m. Saturday.
Lawrence 000 030 1 — 4 7 1
Olathe Northwest 100 000 1 — 2 5 1
W — Brandon Bell, 2-0. L — Nate Westfahl. SV — CJ Stuever.
2B — Taylor Davis, Olathe NW.
LHS highlights — Bryce Montes de Oca, 3 IP, 6 Ks, 3 BBs, 2 H; Drew Green, 1-3, 3 RBI; Michael Sinks, 3-4.
Copyright 2018 The Lawrence Journal-World. All rights reserved. This material may not be published, broadcast, rewritten or redistributed. We strive to uphold our values for every story published.