The love-hate relationship that exists between Lawrence High's girls swimmers and their home natatorium leaned far closer to fondness than loathing Tuesday afternoon at LHS.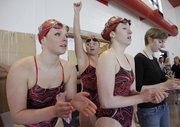 Though the water filling the Lions' on-campus pool has been described by them as shallow and "really hot," they knew how to handle it much better than their competition. LHS beat out five other schools for first place at the Lawrence Invitational.
Senior Miranda Rohn, who took first place in the 100 fly and 100 back and swam on two first-place relay teams, said she and her LHS teammates don't consider their pool the most appealing one around.
"Then everyone complains about it and that makes it a little worse," Rohn said with a smile.
Focusing too much on the conditions, LHS junior Annie Odrowski added, can be a mistake — and that's coming from someone who said the near-90 degree temperature of the water makes swimmers "feel like you're gonna throw up every single time you leave the pool."
The Lions didn't appear too repulsed upon winning the 200 medley relay and 400 free relay races that bookended the meet, with Rohn, Odrowski, Gretchen Frick and Heather Cistola.
"We definitely have the home-pool advantage," Odrowski said, "because other people aren't used to this pool."
The Lions won eight of 12 events to finish 33 points ahead of runner-up Shawnee Mission Northwest. Senior Cistola won both the 200 free and the 500 free, and junior Frick finished first in the 200 IM and 100 free.
Lawrence coach Kent McDonald said the team's primary goal was to attain more state-qualifying times.
"Our first meet we didn't have everyone and were kind of disappointed a little bit," the coach said.
The Lions responded by qualifying for state Tuesday in the 200 medley and 400 free relays. Individually, Cistola earned state qualification in both her wins, as did Frick. Rohn qualified in the 100 fly.
Rohn hoped LHS could win the meet, because she thinks the team is destined for a strong season. The afternoon met her expectations, but she still hopes to add the 100 back to that list of events in which she will be swimming at state.
"I just want to get as many as possible in my collection," Rohn said.
Odrowski, who took third in the 200 free and tied Shawnee Mission Northwest's Taylor Barany for second in the 100 free, said the team's home success should set the tone for upcoming meets.
"It's just exciting to come out and see a lot of girls have the same passion for it that they did last year," Odrowski said.
While Lawrence has a core group of consistent leaders, McDonald said its secondary group — which includes Hannah Lee (fourth in 100 breast, fifth in 100 fly), Nicole Oblon, Alex Ginsberg and a few others — picked up points that helped the Lions finish first.
"They're above where they were at this time last year," he said.
The Lions next compete Thursday at Shawnee Mission South.
Copyright 2018 The Lawrence Journal-World. All rights reserved. This material may not be published, broadcast, rewritten or redistributed. We strive to uphold our values for every story published.