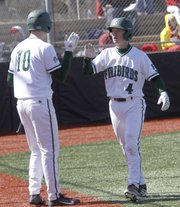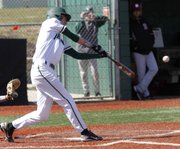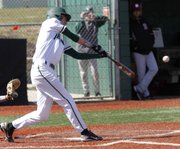 More times than not last year, Free State High baseball players and coaches left the diamond regretting the team's lack of run production.
If the Firebirds' season-opening sweep of Warrensburg, Mo., Wednesday afternoon at FSHS is any indication, rounding the bases and crossing home plate won't be an issue in 2013. Free State, which never scored more than six runs in a game last season, plated 24 runs en route to victories of 11-1 and 13-5.
"I was pleased with how aggressive we were," coach Mike Hill said. "That's something we've been emphasizing. The kids did a nice job with that. We took advantage of a few things that were given to us, whether it was a walk, a hit batsman, an error or something. When those things occurred from our opponent, the kids did a nice job of taking advantage of that."
The Firebirds (2-0) began capitalizing early in their five-inning, run-rule win to open the doubleheader and never looked back. In the second inning of Game 1, Jacob Caldwell's RBI single after a couple of Warrensburg errors gave FSHS a 5-0 lead. Then, Lee McMahon drove in two runs with a single, and Dane McCullough's sacrifice fly to center extended the lead to 8-0.
Zach Bickling's two-run triple in the fourth, after two more errors, set up the run-rule win.
Junior FSHS third baseman Cameron Pope, who went 4-for-8, scored three runs and drove in two in the twinbill, said the Firebirds' offensive production kept their minds off the cold, windy playing conditions.
"We just stayed focused," Pope said. "We didn't really get lazy, and we kept the excitement up, got a lot of hits to keep it going."
McCullough, making his first varsity start on the mound in the opener, threw all five innings, allowed just three hits and struck out four. Hill said the senior right-hander stayed effective by keeping his pitch count low and collecting outs early in the count.
It wasn't until the top of the fifth that McCullough ran into some difficulty. After surrendering a single, his only walk and hitting a batter, the 6-foot-4 hurler got Matt Zembraski to ground out with the bases loaded, ending the game.
The pitcher credited Free State's hitters with making his job easy.
"It definitely made a world of difference, being out there and knowing that you're up five, eight, 10 runs," McCullough said.
The Tigers scored two runs in the top of the first to open the second game, but the lead disappeared quickly. Hill said the Firebirds' timely hitting allowed them to counter with an eight-run first. FSHS scored seven of those with two outs. Some came on Warrensburg mistakes, but McMahon and Cooper Karlin each produced an RBI single, and Joe Dineen drove in two more with a single down the third-base line.
"The kids are hungry a little bit," Hill said of the Firebirds' hot start after losing their first five games in 2012.
Free State's Friday and Saturday games in Missouri have been canceled due to the anticipation of winter weather. Hill said the Firebirds will try to schedule two other games to replace them. Next up for FSHS is its Sunflower League opener, March 28 at Olathe East.
Game 1
Warrensburg 000 10 — 1 3 7
Free State 350 3x — 11 7 0
W — Dane McCullough (1-0). L — Jaxon Janvrin.
3B — Brett Marr, Warrensburg; Zach Bickling, Free State.
Free State highlights — McCullough, 5 IP, 4 Ks; Cameron Pope, 2-3, 2 runs; Jacob Caldwell, 1-2, 2 RBI, 2 runs; Lee McMahon, 1-2, 2 RBI; Bickling, 1-3, 2 RBI.
Game 2
Warrensburg 200 030 0 — 5 6 5
Free State 800 230 x —13 13 2
W — Anthony Miele (1-0). L — Connor Burgin.
2B — Miele, Free State. 3B — Marr, Warrensburg.
Free State highlights — Miele, 3-5, RBI, 2 runs; Joe Dineen, 2-5, 2 RBI; Pope, 2-5, 2 RBI; McMahon, 2-4, RBI.
Copyright 2018 The Lawrence Journal-World. All rights reserved. This material may not be published, broadcast, rewritten or redistributed. We strive to uphold our values for every story published.