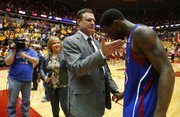 A look back at the best photos, videos and stories from this year's season.
The Kansas men's basketball team will have its open practice from 5:10-5:50 p.m. Thursday at Sprint Center in Kansas City, Mo., in preparation for Friday's 8:50 p.m. NCAA opener against 16th-seeded Western Kentucky.
The practice is open to the public.
Here is the full schedule:
Practices (open to the media and general public)
Noon-12:40 p.m. — Ole Miss
12:45-1:25 p.m. —  Villanova
1:30-2:10 p.m. — Wisconsin
2:15-2:55 p.m. — Kansas State
4:25-5:05 p.m. — North Carolina
5:10-5:50 p.m. — Kansas
5:55-6:35 p.m. — Boise State / LaSalle winner
6:40-7:20 p.m. — Western Kentucky
Copyright 2018 The Lawrence Journal-World. All rights reserved. This material may not be published, broadcast, rewritten or redistributed. We strive to uphold our values for every story published.