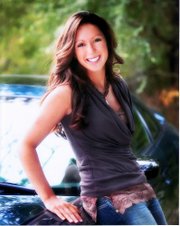 Donor drive aims for KU students
• In honor of Laura Hollar, a 2012 KU graduate who has acute lymphoblastic leukemia
• 10 a.m. to 3 p.m. Monday, KU Credit Union, 3400 W. Sixth St.
• Open to potential donors ages 18 to 44.
• All that's required at drive: Answer questions about eligibility, undergo cheek swab.
• To contribute to drive, which costs the Be The Match registry $100 per member, go to bethematchfoundation.org/goto/TeamLaura.
Contact KU and higher ed reporter Sara Shepherd
Have a tip or story idea?
---
More stories
For the second time in just over a month, Kansas University students next week can register for a chance to save someone's life, in honor of one of their own who's battling cancer.
Three months ago, Laura Hollar was preparing to apply for medical school or chiropractor school after graduating from KU in May 2012 with a cellular biology degree. She was working on a radiology project at the KU Medical Center.
Now she's at the KU Hospital on the Medical Center campus for her third round of chemotherapy since December. Two days after Christmas, she was diagnosed with acute lymphoblastic leukemia.
Her cells were being attacked by cancer, as she'd learned about in classes at KU.
"From the start, she was giving the doctors a pretty good grilling about some things, because she knew a lot of it already," said Hollar's stepfather, Doug Lapham, of Overland Park.
If this chemo round successfully eliminates all remaining leukemia cells in her blood, she'll then need a stem cell transplant. But among the millions of people registered as potential stem cell or marrow donors worldwide, none is a close enough genetic match to be a donor for Hollar, 24.
Inspired by Hollar, and by a marrow donor drive held last month on the KU campus, Lapham said he decided to schedule another drive to sign up young students who could serve as potential life-savers for decades to come.
This drive will be off campus: 10 a.m. to 3 p.m. Monday at the KU Credit Union, 3400 W. Sixth St. That location will make it more accessible for other folks to come, but Lapham said the organizers are hoping to register at least 200 KU students.
Students are ideal, he said, because they're likely to be on the low end of the 18-to-44 age range desired for registry members. They could spend 20 or more years on the list, waiting to be a potential match for someone who needs a transplant.
"We thought the KU population is the best population you can have: young, healthy, there's a lot of them," Lapham said.
Lapham and other friends and family were wearing bright green T-shirts in front of Wescoe Hall on the KU campus Wednesday, hoping to spread the word about the drive.
All that's required of potential registrants is a quick questionnaire to check eligibility and a cheek swab to extract genetic material.
A family four doors down from Lapham in Overland Park held a drive about 18 months ago when their daughter was diagnosed with leukemia. One person who signed up at the drive, 2005 KU graduate Kelly Allen, learned about a year later that she was a match for a 62-year-old man in Washington, D.C., who had chronic leukemia and needed a stem cell transplant.
The National Marrow Donor Program flew Allen along with her mother to Washington about six weeks later. As is becoming more common today, Allen donated stem cells from her blood rather than bone marrow, which is extracted through a more invasive surgical procedure.
Allen said the stem cell donation process was similar to donating blood, and she was done in a few hours. As a way to do something good, it's tough to beat, she said.
"Within six weeks, someone's life can be saved," Allen said.
Laura Hollar's mother, meanwhile, has been on the marrow donor registry, called Be The Match, for about 10 years and has never been a match.
Though anything is possible, Monday's drive is quite unlikely to find a donor for Hollar. But if a couple hundred KU students join the registry, Lapham said, they'll spend years increasing the odds that someone else out there who needs help will get it.
If no adult donor becomes available for Hollar, she'll likely receive a transplant of stem cells from umbilical cord blood, an alternative option that could pose more risks and lead to a longer recovery process, Lapham said.
In the midst of her current round of chemotherapy, Hollar was unable to speak with the Journal-World this week. The process has caused her to lose her hair, sapped her energy and weakened her immune system. This week, Lapham said, she was running a fever as her body fought an infection.
"She's doing as good as she can," Lapham said. "It's a tough toll on the body."
About 4,000 new cases of Hollar's leukemia variant appear each year in the United States, most of them in children younger than 10, according to the National Marrow Donor Program. The Be The Match registry provides connections for about 5,800 marrow or stem cell transplants each year.
Be The Match reports that it costs about $100 to add each new potential donor to the registry, so it asks people organizing drives to raise funds for its foundation.
The organizers of Laura's drive have already surpassed their $5,000 fundraising goal. But anyone interested can contribute more online at bethematchfoundation.org/goto/TeamLaura.
Lapham has handed off the main drive coordination duties to his friend Gary Bartlett, a Lawrence resident. Bartlett said he has promised to allow whoever has donated the largest amount by the end of the drive Monday to shave his head.
Last month's donor drive on the KU campus raised more than $7,000 and added about 120 people to the Be The Match registry, said KU student Sharilyn Mathews, who organized the drive in honor of her husband, Jonathan. And Jonathan, who has Hodgkin lymphoma, is now set to receive a stem cell donation from an international donor in a few weeks, she said.
Lapham said Hollar's friends and family are working hard to do their part, too, to help people affected by blood cancers that can threaten people's lives regardless of their age or health.
"When this thing hits, it just turns everything upside down," Lapham said. "Your life just comes to a screeching halt."
Copyright 2018 The Lawrence Journal-World. All rights reserved. This material may not be published, broadcast, rewritten or redistributed. We strive to uphold our values for every story published.