Anyone looking for issues on which the four Lawrence school board candidates disagree would have had difficulty Wednesday night when they all answered questions during a candidate forum at City Hall.
Incumbents Vanessa Sanburn and Bob Byers, along with challengers Kristie Adair and Adina Morse, all said they strongly support the district's proposed $92.5 million bond issue.
All of them also said Wednesday that the most difficult issue confronting Lawrence schools in the near future is inadequate funding for education from the Kansas legislature.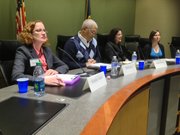 Voters will elect three of the candidates in the April 2 general election.
"Our Lawrence coalition gets it," said Morse, a Lawrence native and attorney who is also actively campaigning for passage of the bond issue. "I've heard them say over and over again, if you have friends and you have family in the rest of the state, contact them. Ask them to contact their legislators. Kansas has got to come together to put funding back to our state. That is absolutely our greatest challenge."
"I do think that here in Lawrence, people really get it," echoed Sanburn, the current board president who is also campaigning for the bond issue. "But in the state of Kansas, helping get that more broadly understood and wanting our public education to continue getting really good outcomes is going to be one of our greatest challenges."
Adair and Byers agreed that securing more funding from the Kansas Legislature will be the biggest challenge facing the board.
But when asked how they would approach the possibility of cutting the district's budget if funding from the state is reduced, the candidates offered few specifics. All of them, however, said they would seek input from the community about where to cut.
"If we do have to work with budget issues, I think talking to the stakeholders in the community, having the community as a whole advocate for better funding would be the answer," said Adair, who formerly worked in the prekindergarten program at East Heights Early Learning Family Center and now co-owns Wicked Broadband, an Internet service provider in Lawrence.
"In my first four years on the board, unfortunately, Vanessa (Sanburn) and I did have to address this issue head-on," said Byers, an assistant program administrator for the Kansas Department of Children and Families. "I really can't tell you what I would or wouldn't cut simply because it's not a simple question. It's a complicated question with a very complicated set of answers as to what things are there that you really can afford to cut (and) how each cut affects children."
One of the few questions that brought out different answers from the candidates dealt with a hypothetical issue: What new programs or curricula would each like to start if the district had enough money to do so?
Adair said she would advocate for a program in child nutrition.
Sanburn, who also serves on the Community Mercantile Education Foundation board, said she would like to expand the district's nutrition program by hiring paid staff to expand the school food gardens and the farm-to-school program.
But Byers and Morse both said they support expanding career and technical education, which is one element of the school district's upcoming bond proposal.
When asked whether they would support the teaching of evolution and creationism side-by-side in classrooms, Byers was the only candidate who hesitated in giving a definitive answer.
"I would approach it gingerly, which is the way I do with my mom," Byers said. In the end, though, he said, "the biblical aspect is better taught by the church."
All three of the other candidates gave an unqualified "no" to teaching creationism side-by-side with evolution in science classes, but said they would be comfortable teaching it as part of a religious studies class.
The forum was sponsored by the Voter Education Coalition, a nonpartisan collaboration of 15 community organizations and businesses including the Journal-World.
Copyright 2018 The Lawrence Journal-World. All rights reserved. This material may not be published, broadcast, rewritten or redistributed. We strive to uphold our values for every story published.